Achilles International Inc.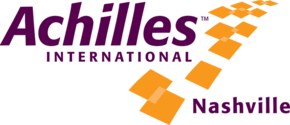 DONATE NOW
234 Boxmere Place
Nashville, TN 37215
Executive Director
---
Executive Director
Ms Amy Harris
E-mail
achillesnashville@gmail.com
Term Start
January 2018
Amy's Experience: Amy Harris is currently the Executive Director of the Achilles International Nashville chapter. Prior to accepting this part-time position, Amy was a Part-time Achilles Co-Assistant Director. She has been an active volunteer guide since the beginnings of Achilles back in 2012. Amy has served as team coach and she develops all the training plans for athletes. Amy is an avid runner who truly believes that running is a gift to be shared. She gets more personal satisfaction in running to help another athlete who might not be able to run otherwise without a guide. She has guided many of our athletes in 5K's, 10k's, half marathons, and marathons (guiding in the NYC Marathon 4 times to guide blind athletes, participating as a guide for a blind athlete in the California International Marathon, and serving as a sighted guide for the Boston Marathon). Amy has been both personally and professional involved in the disability community for over 25 years. She is the parent of a young adult daughter who has cerebral palsy. She is the Program Manager in the Special Education Department (IRIS Center) at Vanderbilt. Prior to the IRIS Center, she worked as the Director for Easter Seals Pediatric Rehabilitation for 6 years and the Director of the Susan Gray Early Intervention Center at Vanderbilt for 7 years before that. Amy's has great passion for each and every one of the athletes and guides in this amazing organization, and she hopes to continue to grow the chapter in the coming years. She works hard to help each athlete meet their own goals and needs.
Co-Executive Director
---
Co-Executive Director
Ms. Sara Solomon
E-mail
lizzybstart@gmail.com
Term Start
January 2018
Sara's Experience: Sara 'Lizzy' Solomon has been an Achilles Athlete since 2012 when she ran using a reverse walker. She now runs using a handcycle and recently finished her first half marathon. Lizzy maintains our website and keeps track of our Athletes and Volunteer Guides who come to train as well as the expenses for the Athletes and Guides. She also does the pairings of Athletes and Guides for our practices.
Senior Staff
---
| Name | Title |
| --- | --- |
| Mrs Sarah Hart | USATF Coach |
| Mr. Wil Santi | Professional Trainer |
Staff
| | |
| --- | --- |
| Full Time Staff | 0 |
| Part Time Staff | 2 |
| Volunteers | 500 |
| Contractors | 0 |
| Retention Rate | 0% |
Plans & Policies
| | |
| --- | --- |
| Does your organization have a Fundraising Plan? | Yes |
| Does your organization have a Strategic Plan? | No |
| Years Strategic Plan Considers | N/A |
| When was the Strategic Plan adopted? | |
| Does your organization have a Management Succession Plan? | No |
| Does your organization have a Policy and Procedure Plan? | Yes |
| Does the organization have a Nondiscrimination Policy? | Yes |
| Does the organization have a Whistle Blower Policy? | |
| Does the organization have a Document Destruction Policy? | |
Evaluation
Is there a formal evaluation for...
Frequency (if applicable)
CEO/Executive Director
Yes
Quarterly
Senior Management
N/A
N/A
Non-Management
N/A
N/A
Affiliations
| Affiliation | Year |
| --- | --- |
| USA Track and Field | 2012 |
Awards
---
| Award / Recognition | Organization | Year |
| --- | --- | --- |
| Agency of Distinction Award | ARC Of Davidson County | 2017 |
| Certificate of Recognition | Metropolitan Government, Office of the Mayor | 2013 |
| International Volunteer of the Year | Achilles International | 2016 |
| Nominee Volunteer Year | Catherine Strobel Awards Nomineee | 2017 |
| Proclamation by the Mayor | Metropolitan Government, Office of the Mayor | 2014 |
| U.S. Paralympics Sports Club Nashville Civics Award | Tennessee Association of Blind Athletes | 2012 |
CEO/Executive Director/Board Comments
---
The Executive Director and Assistant Director divide up many of the tasks: facilitates all of the weekly runs and organizes all race day events, maintain our website and assist with marketing efforts and community outreach. John Lavey is now our current President of our Advisory Board. Senior Staff is comprised of our volunteers that have gone above their normal volunteer duties, and are providing services beyond guide running for Achilles Nashville. Senior staff all have coaches certification and have passed Safe Sport practices through the USATF.