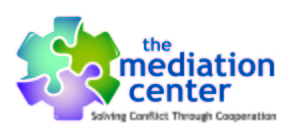 One Public Square, Suite 10
Columbia, TN 38401
Statements
Mission
The Mediation Center's mission is to provide services that will help individuals, families and communities achieve peaceful, just and creative resolution of all types of disputes, including those in the Court system. We help people solve and prevent conflict.
Background
The Mediation Center was founded by an attorney, a human resource coordinator and a dedicated group of community advocates who understood that there was a better way for people to resolve most problems than going to court or engaging in physical confrontation. Mediation is a process in which a skilled, impartial mediator helps parties to a dispute to reach an agreement. Mediation is a communication process that identifies important issues, clarifies misunderstandings, explores solutions and negotiates settlement. The mediator helps participants communicate and listen, discover and clarify options, find solutions, and develop an agreement to end the dispute. The mediator is not a judge, nor does he/she dictate a solution. Participants make the decisions about what they will do to resolve their dispute. Cases that can be successfully mediated include landlord-tenant disputes, property disputes, parenting issues, divorce matters, school-related disputes, neighborhood conflicts, and victim-offender reconciliation, youth and adult.
Impact
In our many years of service, The Mediation Center has assisted over a thousand adults and young people in solving their problems and resolving disputes through creative uses of Mediation.
Needs
We welcome attorneys, who are wanting economical mediations for their family law clients, to refer those cases to us. We bring the same level of skill and professionalism as the private mediation sector at a fraction of the cost.We are also continuously seeking volunteers who are interested in mediating disputes involving young people that have been referred to us by the juvenile courts, as well as volunteer Rule 31 trained mediators to handle pro bono court ordered mediations for unrepresented parties.
CEO Statement
Part of our mission is to train persons - adults and students - to become community or peer mediators. We have helped start peer mediation programs in several public schools in Maury County, and we continue to work closely with the Juvenile Court and the school system to work with young people to resolve disputes. We have also produced training events for persons who want to become volunteer community mediators and have begun training to offer a curriculum for Parenting Education classes for divorcing or separating parents.
Board Chair Statement
Our board of directors has recognized a need to plan for the future of the organization. We are developing many new and exciting programs to help our community solve and prevent conflict as well as bring attention and provide outreach of our services to surrounding areas in Middle Tennessee to broaden the influence and positive impact of Mediation.
Service Categories

Primary Category:

Crime & Legal - Related

-

Dispute Resolution & Mediation

Secondary Category:

Public & Societal Benefit

-

Citizen Participation

Tertiary Category:
-
Areas Served
We will travel outside of Maury County to provide mediation and training services. Our 4 hour Co-Parenting classes are court-approved in the 17th, 21st and 22nd Judicial district encompassing and serving attendees from 12 counties in the southern Middle Tennessee region.
TN - Bedford
TN - Hickman
TN - Maury
TN - Marshall
TN - Williamson