Achilles International Inc.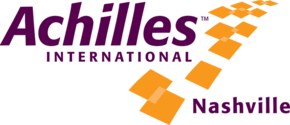 DONATE NOW
234 Boxmere Place
Nashville, TN 37215
Statements
Mission
Our mission is to enable people with all types of disabilities to participate in running activities or events in order to promote personal achievement, healthy living, and active lifestyles.
Background
Achilles International Nashville welcomes all people with disabilities to the wonderful world of running! In Achilles parlance, running means any form of forward locomotion - conventional running, walking, wheeling, or utilizing orthotic or prosthetic devices. In 1976, Dick Traum, an above the knee amputee, found himself approaching middle age and out of shape. After joining a local YMCA, Dick began running - small distances at first and then, eventually several miles. Within a year, Dick became the first amputee to run the New York City Marathon. The experience was life changing, bringing a powerful sense of achievement and self-esteem. In 1983, seeking to provide that same opportunity to other people with disabilities, Dick created the Achilles Track Club, now called Achilles International.Today, this non-profit organization has chapters and members in over 65 locations in the United States and abroad. Every day, in parks, gyms, and tracks all over the world, Achilles provides athletes with disabilities with a community of support. Able-bodied volunteers and disabled runners come together to train in an environment of support and community. Within this community, runners gain measurable physical strength and build confidence through their sense of accomplishment, which often transfers to other parts of their life.Over the years, Achilles has also developed specialized programs for children and war veterans. Achilles Kids provides training, racing opportunities, and an in-school program for children with disabilities, while our Freedom Team of Wounded Veterans program brings running programs and marathon opportunities to disabled veterans returning from Iraq and Afghanistan.While our program focuses on running, the truth is, sports are simply the tool for accomplishing our main objective: to bring hope, inspiration and the joys of achievement to people with disabilities. In January 2012, Sarah Hart led an exploratory meeting with community leaders representing fitness and disability, to discuss the Achilles opportunity in Nashville. An obvious need and strong support among these leaders led Hart and the NY organization to charter an Achilles chapter in Nashville. These leaders now comprise the Achilles Nashville Advisory Board.
Impact
Achilles International Nashville is a local chapter of a 30-year-old organization based in New York. Since our Inaugural Run in April 2012, we have grown to approximately 200 athletes with disabilities and 400 volunteers. We are one of the largest and fastest growing Achilles chapter out of approximately 70 chapters in the world. We operate out of the beautiful McCabe Community Center, where we store all of our equipment, and have access to a community room and indoor track during inclement weather. During fall and spring we add additional training runs at various locations around the city on Saturday mornings. Our weekly runs have been well-attended with enthusiastic athletes with disabilities and able-bodied athlete guides that have enjoyed the camaraderie of running together. Immeasurable accomplishments include enhanced self-esteem, personal achievement and disability awareness. Other accomplishments include the collaboration between different groups that serve the disability community, such as the TN Association of Blind Athletes, Able Youth, Friends Life Community, and the Vanderbilt Stallworth Rehabilitation Hospital. Our group has developed strong connections with the local universities, including Vanderbilt, TSU, Belmont, and Lipscomb serving as a site for volunteer service hours and internships for students in special education, Occupational/ Physical therapy and related areas. Our Advisory Board includes leaders in the running community, as well as the community of those with disabilities. The synergy of our Board has led to many positive outcomes, not only for Achilles, but also for our other non-profit partners, in the form of collaborative adaptive events, like adaptive water skiing, adaptive cycling and adaptive climbing. About 90% of our athletes with disabilities had never run prior to the inception of Achilles Nashville. Our chapter has paved the way for runners with adaptive needs in our community, and we are proud that the Country Music Marathon had it's first 'wheelchair division' and early marathon start for our athletes. Since our first run, a large number (approximately 50) of our runners have completed either a full or half marathon or a 5K. Five athletes trained for and completed the November 2016 New York City full marathon. In December 2017, 7 visually impaired/ blind athletes and 7 guides travelled to complete in the California International Marathon and United States Association of Blind Athletes National Championships. We held our 4th annual Hope & Possibility ? 5-Miler & 1-Miler on October 21st, 2017, a celebration of able-bodied and disabled runners coming together. The race benefited 6 local charities that provide Hope & Possibility? in our community every day. Our 2017 goals included: 1. Give back to the community and grow our number of athletes and guides through a planned community outreach program. 2. Increase the number of participants in the 2017 Hope and Possibility? 5-Miler & 1-Miler. In 2018 one of our major goals, providing a Community Outreach for a training program with another non-profit has been achieved. Achilles met with Friend's Life (Young adults with intellectual disabilities) weekly for 10 weeks and the run/ walk training culminated in the 5k and 10k Race Judicata in early April 2018.
Needs
Our most pressing needs are: 1. Volunteers to run / walk with athletes at Wednesday evening and Saturday morning workouts. 2. Post-workout recovery hydration & nutrition (estimated cost $30 per week). 3. Safety Equipment: Reflective vests and lights, Athlete and Guide Shirts. During the Fall and Winter, lack of daylight is a safety concern for our early morning and evening workouts (40 Vests=$600, 60 Blinkers=$316.80, 200 Shirts=$2800).4. Equipment maintenance (parts and expertise) for handcycles, wheelchairs (day-use and racing), and adaptive training equipment (variable cost). 5. Sponsorships for individual athletes traveling to out of town Race Events (variable cost depending on distance, airfare, and lodging accomodations).
CEO Statement
From Dick Traum, CEO of Achilles International: Achilles International Nashville Chapter, in existence since April 18, 2012, closed its first calendar year with membership totals of 45 athletes with disabilities; and 118 volunteer guides. That is the fastest growth seen in Achilles International's 30-year history. Not only did it grow quickly, the chapter has set a new standard of excellence for all the U.S. chapters. Understanding that real growth requires process and procedures, the Nashville chapter leaders -- in conjunction with NY headquarters -- drafted communications documents that are now templates used by other chapters. In this way, the organization can grow with greater ease, consistency, and proficiency. The success of the Achilles Nashville Chapter inspired several other individuals to inquire about starting a chapter and six of our more recent chapters follow the Nashville model.
Board Chair Statement
From Melanie Yappen, former Achilles Nashville President: Achilles Nashville has had an amazingly successful 4.5 years of service to Middle Tennessee. Since our Inaugural Run in April 2012, approximately200 athletes with disabilities and 400 volunteers have participated in Achilles Nashville. The organic growth has been our biggest challenge as we try to navigate through the next year. Additionally, another goal is a big challenge and that is outreach: making sure that every person with a physical disability in Middle Tennessee is aware of our organization and has the means to run, and the equipment needed to run. During our first year our Advisory Board, leaders in the running and disability community, helped us successfully launch Achilles. Grants and major in-kind gifts from the National Wheelcats, Tennessee Association of Blind Athletes, Cigna, The Challenged Athlete Foundation, The Pickel Foundation, and The Roros Foundation have funded major equipment needs, non-reimbursed medical equipment, and marathon expenses that our current operating budget could not afford. Every new athlete presents a new set of challenges in terms of training and equipment. For example, quadriplegic athletes use handcrank cycles to race, but sometimes they cannot grip the handlebars. Through foundations mentioned above, we were able to purchase an adaptation for the cycles for our quads. GM is also gifted 5 hand cycles to our chapter. While there has been an outpouring of support for larger purchases, we still look for day-to-day funding for our other needs such as safety equipment and athlete transportation. I have been involved with Achilles Nashville since its inception and am honored to serve as President. As a runner, I understand the power of the mind-body connection and want to make sure that everyone has that opportunity. Having no prior experience in the world of disabilities, our athletes have made me passionate about our organization--one that is very unique: an adaptive athletic program that has proven its staying power by its organic growth and support of our community. One athlete that made me understand the difference our program makes is a woman named Christy. Christy, a blind athlete, likes to share her story about how she sat and smoked on the couch, day after day for 12 years while she gradually went blind. When she started running with us a year ago, she could barely run/walk three miles. Twelve months later, Christy is now a full-time student at Nashville State, has moved out of her parents house and is living independently with her five-year-old daughter, has quit smoking, volunteers for TNABA, and ran a half marathon. All of her guides and family cannot say enough about the amazing transformation that has taken place in Christy since she started with Achilles. Achilles is lowering barriers to exercise for adaptive athletes in Middle Tennessee with a solid foundation of community support. I passionate about its continued success, because Achilles Nashville is building a stronger community.
Service Categories

Primary Category:

Human Services

-

Blind/Visually Impaired Centers, Services

Secondary Category:

Recreation & Sports

-

Physical Fitness/Community Recreational Facilities

Tertiary Category:

Recreation & Sports

-
Areas Served
All of Middle Tennessee
International
TN - Davidson
KY - Todd
KY - Trigg
TN - Bedford
TN - Cannon
TN - Cheatham
TN - Clay
TN - Coffee
TN - Cumberland
TN - Davidson
TN - DeKalb
TN - Dickson
TN - Fentress
TN - Franklin
TN - Giles
TN - Hickman
TN - Houston
TN - Humphreys
TN - Jackson
TN - Lawrence
TN - Lewis
TN - Lincoln
TN - Macon
TN - Marshall
TN - Maury
TN - Montgomery
TN - Moore
TN - Overton
TN - Perry
TN - Pickett
TN - Putnam
TN - Robertson
TN - Rutherford
TN - Smith
TN - Stewart
TN - Sumner
TN - Trousdale
TN - Van Buren
TN - Warren
TN - Wayne
TN - White
TN - Williamson
TN - Wilson
KY - Christian
KY - Todd
KY - Trigg
TN - Bedford
TN - Cannon
TN - Cheatham
TN - Clay
TN - Coffee
TN - Cumberland
TN - Davidson
TN - DeKalb
TN - Dickson
TN - Fentress
TN - Franklin
TN - Giles
TN - Hickman
TN - Houston
TN - Humphreys
TN - Jackson
TN - Lawrence
TN - Lewis
TN - Lincoln
TN - Macon
TN - Marshall
TN - Maury
TN - Montgomery
TN - Moore
TN - Overton
TN - Perry
TN - Pickett
TN - Putnam
TN - Robertson
TN - Rutherford
TN - Smith
TN - Stewart
TN - Sumner
TN - Trousdale
TN - Van Buren
TN - Warren
TN - Wayne
TN - White
TN - Williamson
TN - Wilson
KY - Christian