Tennessee Foreign Language Institute Fund Inc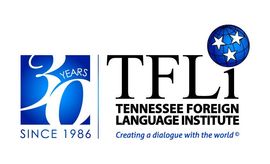 DONATE NOW
220 French Landing Drive Suite 1-B
Nashville, TN 37243
Statements
Mission
The TFLI Fund, Inc. was established in January 1995 as a means of support for the Tennessee Foreign Language Institute (TFLI), an agency of the State of Tennessee established in 1986, now known as the Tennessee Language Center (TLC). The TFLI Fund supports the activities and initiatives of TLC with funding and guidance as TLC strives to provide quality language instruction, translation and interpretation services, professional development for interpreters, translators and language instructors, and cultural awareness programs, all of which are designed to meet the needs of the state government and its employees, the business community, foreign language educators and the public at large.
Background
The TFLI Fund, Inc. was established as a 501(c)3 in January 1995 as a means of support for the Tennessee Foreign Language Institute (TFLI), an agency of the State of Tennessee established in 1986 by the General Assembly, now known as the Tennessee Language Center (TLC). In its charter, the TFLI Fund, Inc. is organized exclusively for educational purposes, with the following specific purposes. To promote, encourage, assist and foster 1. education, particularly in the area of the learning of foreign languages. 2. and provide for the dissemination of knowledge and research concerning the learning of foreign languages. The Fund meets to discuss opportunities to promote awareness of TLC and raise funds for TLC initiatives and programs. Board members are volunteers. The initial directors of the TFLI Fund, Inc. were Dr. Phillip J. Campana, Dr. Steve Cobb, Ms. Sandra Ford Fulton, Mr. Rich Riebling, Dr Joseph E. Johnson, Ms. Judith O. Liff, Dr. Arliss L. Roaden, and Dr. Charles E. Smith.
Impact
The Tennessee Language Center teaches more than 2,500 students annually in foreign language, English as a Second Language and through professional development for teachers and interpreters across the state of Tennessee. We provide need and commitment-based scholarships through our Rasmussen Scholarship program, awarding thousands of dollars in assistance to those who might not otherwise have the means to begin to broaden their linguistic and cultural horizons. We support Title VI of the Civil Rights Act which ensures linguistic access to federally funded services. The quality of the service provided is important to us as well. We assess the skills of interpreters used in medical settings for the community and provide interpretation and translation services to corporations, healthcare providers, state and local governments, social services and individuals. We engage with the community through participation in seminars and multicultural events. We are concerned with issues that affect the immigrant and refugee communities of Tennessee and seek to be of service where we can. We provide translators and interpreters, at times at low or no cost when possible, to facilitate communication for those with limited English proficiency. We maximize opportunities through creative financial management of our scarce resources. We created a barter program in which volunteers may work in our offices in exchange for courses. We advocate foreign language acquisition for other employees in public service and sought and won legislative approval for participation in the fee waiver program for State of Tennessee employees. TLC currently collaborates with Vanderbilt University Medical Center to train healthcare interpreters and facilitates training programs for Teachers of English as a Second Language (ESL), in which practicum hours are provided as lessons to English language learners in the community. TLC is affiliated with the American Translators Assn., the Nashville and Hispanic Chambers of Commerce, the Nat'l. Assn. of Judiciary Interpreters & Translators, The National Early Language Learning Org., Teachers of English to Speakers of Other Languages, TN Assn. of Prof. Interpreters & Translators and the TN Foreign Language Teachers Association. We actively seek to create a dialogue with the world.
Needs
In an effort to make our classes and linguistic services more accessible, we seek to subsidize the cost of service provision through scholarships and financial assistance. Quality interpretation services, for example, are in demand, but the prevailing market rate with the interpreters we contract is cost-prohibitive to those who need the service the most. Similarly, the growing and diverse refugee and immigrant communities throughout Tennessee require skilled and professional interpreters, yet many individuals providing services have not received formal training and do not have the financial means to further their careers by attending training programs or pursuing professional interpreter certification. It is our goal to find a way to offset these fees to the neediest individuals and organizations in our area.
CEO Statement
The Tennessee Language Center is unique to find in the public sector, as we support social services, the needs of the legal community, healthcare, economic development and education. Being good stewards of the public trust, we try to balance our need to promote our services with the service that we actually provide. We are also unique in that we have a supporting 501(c)(3), The TFLI Fund, Inc., which was created as a funding stream and safety net in the case that state funding may not always be present for TLC. The Fund grants to TLC a formulized amount annually after allocating an amount to ensure growth to its base. These funds are used to supplement programs or build infrastructure. We have promoted children's language camps, used these funds for professional development and have made technological upgrades. TLC has managed to make the most of its state appropriation each year, an amount which comprises approximately 20% of the operating budget. The remaining budget is comprised of fees collected, grants and other donations. We are deeply grateful to the TFLI Fund for its support and cooperation to promote TLC through events such as the International Winetasting and the Senator Douglas Henry Horizon Award. We are also indebted to Mr. Wallace Rasmussen for his endowing of the scholarship program that bears his name. We are able to bring the joy of language learning to so many through his personal generosity. Still, none of the wonderful programs and services we provide would be realized without the dedication of the staff of TLC, a group of individuals with diverse cultural experiences and linguistic backgrounds who are firmly committed to the mission of TLC. They are not motivated by financial remuneration, but by their dedication to world languages, cultures and the important roles they play in bridging linguistic and cultural gaps in our community.
Board Chair Statement
The official goals of the Tennessee Language Center can be found in the legislative mandate in the TCA: - Coordination and provision of foreign language skills needed by state government for purposes of industrial recruitment, tourist development or any other state purpose; - Original research into the most effective methods of foreign language instruction and the dissemination of such knowledge; - Improvement of the language skills and teaching methods of foreign language instructors at all levels in the schools, colleges and universities of Tennessee; and - Coordination and provision of foreign language instruction to the citizens of Tennessee.' Key to our growth is the distinction that we are not limited to the above goals, and we endeavor to provide: - Superior language instruction in English to serve the newest residents of the state of Tennessee; Quality translation and interpretation services to state government, the business community, and the citizens of Tennessee; - Professional development, education, and training of interpreters and translators in the legal, medical, technical and commercial fields; - Professional development of instructors of all languages, and - Cultural awareness programs. We fully support Title VI of the Civil Rights Act of 1964.
Service Categories

Primary Category:

Education

-

Educational Services

Secondary Category:

Public & Societal Benefit

-

Government and Public Administration

Tertiary Category:

Arts, Culture & Humanities

-

Cultural & Ethnic Awareness
Areas Served
TLC serves the entire state of Tennessee, with the majority of our services emanating from and directed toward Middle Tennessee. We provide interpretation and translation services statewide, and written translation services are delivered nationwide. We are expanding programs statewide, currently in over 50 of the 95 counties of Tennessee.