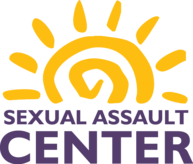 DONATE NOW
101 French Landing Drive
Nashville, TN 37228
Statements
Mission
To provide healing for children, adults, and families affected by sexual assault and to end sexual violence through counseling, education, and advocacy.
Background
SAC was started in 1978 by two Vanderbilt University divinity students who saw a need to help victims of rape and sexual abuse. Their vision was to provide support to all survivors of sexual assault and to work to end sexual violence. SAC's mission today reflects our founders' vision: To provide healing for children, adults, and families affected by sexual assault and to end sexual violence through counseling, education, and advocacy. SAC has been in several locations over the years with a fire destroying the building and files in 1988. A permanent site was established in 1997 when a building was purchased and paid for at 25 Lindsley Avenue. In 2008 SAC moved to a new location at 101 French Landing, where we still operate today. Our building was fully paid for through a successful capital campaign in 2008. SAC operated a satellite office in Clarksville for over 15 years but recently closed our doors, in October 2020, due to reduced funding in that community. SAC is working with local service providers to ensure trauma-informed services are still offered to survivors in Clarksville.

In the past 3-4 years, SAC has grown and changed tremendously and experienced a CEO leadership transition. Our agency has doubled in size and budget, going from a staff of approximately 25 to 55. We now have more robust service offerings including a Clinical Department, an Advocacy, SAFE Clinic & Hotline Team, a Statewide Training team, and a Prevention & Outreach team. The most notable change and addition to SAC was the opening of the Tohill SAFE (Sexual Assault Forensic Exam) Clinic in Sept. 2018. SAC now provides medical-legal rape exams onsite 24/7, in partnership with Sexual Assault Nurse Examiners from Nashville General Hospital. The SAFE Clinic was created after several years of multidisciplinary teamwork around improving our city's coordinated response to rape victims. For decades, there was only one place a rape victim could go in Davidson County to receive a rape exam. Now, in addition to there being several hospitals where a victim can receive an exam, SAC's SAFE Clinic is the primary location for the provision of these exams. The Clinic expands the continuum of care we can provide victims/survivors.

SAC's CEO leadership changed in January 2018. Tim Tohill retired after 25 years as SAC's President & CEO. Rachel Freeman was named SAC's new President & CEO following a year of succession training with Tohill. Rachel has been with SAC since 2002 in various roles.
Impact
Since opening, SAC has provided therapy to more than 28,500 children and adults, and over half a million children and adults have had access to or received our prevention programming. Our primary purpose is to provide healing to children, adults and families impacted by sexual assault and to stop sexual violence before it happens. To do this, SAC provides: 1) Individual and group therapy, 2) Advocacy support, 3) Medical accompaniment at SAC's SAFE Clinic and area hospitals, 4) Statewide 24/7 Crisis Support Line, 5) Targeted services for underserved communities, with a specific focus on Black/African Americans, Hispanic/Latinx, and LGBTQ+ individuals, 6) statewide trainings for professionals to increase capacity to respond to sexual assault, 7) and age-appropriate prevention education across the lifespan and throughout the community. 

We are committed to providing the most effective services that empower individuals to overcome the effects of sexual assault. Our clinical staff is focused on providing specialized care to all victims of sexual assault regardless of their ability to pay. We are committed to providing a warm, safe, welcoming environment for all regardless of age, ethnicity, culture, gender, gender identity, sexual orientation, socio-economic status or disability. We use standardized measures to evaluate client reduction of trauma-related symptoms such as depression and anxiety. We are equally committed to reducing the number of individuals that are sexually abused by providing our community with the knowledge and skills to reduce sexual violence. Through a continuum of age and developmentally appropriate prevention education materials and programming, children, teens and parents learn about body safety, healthy relationships, respect, bystander intervention and facts about sexual abuse.

SAC realizes that we cannot do this work alone and the need for our services is more than any one agency can handle. We are extremely grateful for the many partnerships we have throughout the community that enable us to provide a better continuum of care to sexual assault survivors. SAC provides therapy and advocacy through co-located services at the Hispanic Family Foundation, Family Safety Center, Nashville Children's Alliance, Cherished Hearts, Magdalene/Thistle Farms, and End Slavery Tennessee.

As soon as the COVID19 crisis hit, our team very quickly figured out how to provide our services remotely. Providing the direct care to our clients was most important for us, so we worked to put measures into place to serve our clients remotely. Our therapists and advocates provide sessions through zoom's confidential telehealth platform. Our training and prevention teams continue to provide trainings, peer support groups and community outreach and engagement through various virtual avenues. The only program that we had to suspend temporarily was providing exams at the SAFE Clinic. Early into the COVID crisis, we realized we did not have the personal protection equipment to keep our staff and clients safe during an exam. We made the difficult decision to suspend operations of the SAFE Clinic until we had all of the PPE needed to ensure everyone's safety. We were closed for 3 weeks in March/April, but have been fully operational since.

While most of our services are still remote, we do provide therapy and advocacy in person for those who are not "safer at home" or do not have the technology resources. We plan to stay primarily remote until Nashville reaches phase 4 of the City's Reopening Plan. SAC staff and clients have adapted to this new way of operating, and we want to do our part in keeping everyone safe in whatever ways we can. Everyone maintains a focus on our mission and meeting the needs of our clients. It hasn't been without its challenges, of course, but overall, our clients are being served well and compassionately, and we are meeting the continued demand as best as we possibly can.

Needs
Although most people do not realize the pervasiveness of sexual assault, these statistics have stayed consistent for years: 1 in 4 girls and 1 in 6 boys will be sexually assaulted before their 18th birthday. 1 in 6 women and 1 in 17 men will suffer rape/attempted rape in their lifetime. 1 in 5 females and 1 in 16 males will be sexually violated in college. What is changing, though, is that more people are talking about sexual assault and the lifetime of negative outcomes that can result if left untreated. The #MeToo movement has helped destigmatize sexual assault and given power to survivors. Research on Adverse Childhood Experiences (ACEs) indicates abuse can impact physical health even into adulthood, increasing the chances of diabetes, heart disease, and depression, among other things. Timely and effective therapy can lessen trauma and provide long-term healing. Knowing there are evidence-based treatments that can mitigate the impact of sexual abuse makes access to prompt, specialized care vitally important. SAC provides essential services at the intersection of many of the challenges our community faces. SAC is the only place in Middle TN exclusively dedicated to addressing sexual violence through a comprehensive range of services that have continued throughout the pandemic.
CEO Statement
I am so fortunate to work in an organization with staff and volunteers so highly committed to achieving our mission, and where we get to determine our culture and how we can best achieve our mission. The Sexual Assault Center (SAC) is the only organization in Middle Tennessee whose primary purpose is to provide support to survivors of sexual assault and to end sexual violence. Our staff, board and volunteers are passionate about our mission and you can see this passion in the quality of the services offered. Our clinical services are provided based on the needs of the client, not the source of funding. The success of SAC. is achieved by combining our passion with an understanding that we must be efficient and effective. It is not enough to show care and concern for survivors. We must be able to help people change their lives. We utilize standardized measures to show that symptoms such as depression and anxiety are being reduced. These measures enable us to effectively evaluate our programs and to work individually with each client to achieve success. We know how to effectively assist survivors, but we also understand that it is much better to prevent the abuse from occurring. Our prevention department reaches thousands of individuals through a vast toolkit or programs and resources available to individuals across the lifespan.
Board Chair Statement
The mark of a thriving non-profit is seen in its competent staff and president, its strong and supportive board, its mutually agreed upon strategic plan, and excellent communication among all involved. With these qualities in place, the SAC board recently adopted a comprehensive long-range plan that will enable SAC to continue to expand its mission and services in our community. Active and knowledgeable committee members are involved in areas such as clinical services, prevention programs, finance, development, marketing, board recruitment, volunteer, human resources, outreach, advocacy and public policy. With their united efforts, SAC is able to deliver quality services to thousands. While data confirm the success of our counseling, prevention and training services, success is also evident in the positive transformation we see daily in the lives of those we serve. The dedicated team of staff, volunteers, and board members provide critical services to the community in the areas of clinical counseling to survivors of sexual assault, crisis line monitoring, and prevention in the form of educational programs and training, advocacy, and awareness events. SAC therapists are licensed specialists in trauma recovery for sexual assault victims of all ages and their families. No client is ever turned away due to inability to pay. In addition, SAC has developed prevention curricula and training programs geared to children, young adults, parents/caregivers and adults. Each year thousands of elementary and high school students learn about healthy relationships, respect, technology safety and body safety. SAC also offers professional training programs for teachers, social workers, and other professionals in the recognition and response of sexual abuse and assault. Additionally, two years ago we developed the SAFE (Sexual Assault Forensic Exam) Clinic, Middle Tennessee's only non-hospital clinic dedicated to the provision of medical legal forensic exams (also known as rape kits). The SAFE Clinic provides a trauma-informed, survivor-centered, nurturing environment where rape victims can receive compassionate care, treatment and support from advocates and sexual assault nurse examiners. SAC also created Tennessee's first statewide sexual assault crisis hotline that went live July 2020. SAC is now able to offer a broad continuum of care and services to children, adults, and families who have been impacted by sexual assault, while also working hard to stop sexual violence before it ever happens. The success of SAC is achieved by combining our passion with an understanding that we must be efficient and effective.
Service Categories

Primary Category:

Mental Health & Crisis Intervention

-

Sexual Assault Services

Secondary Category:

Mental Health & Crisis Intervention

-

Counseling

Tertiary Category:

Crime & Legal - Related

-

Sexual Abuse Prevention
Areas Served
Our headquarters is located in Nashville, TN and our clinical services are available to any individual impacted by sexual abuse regardless of where they live. We have clients who come from many counties in Middle Tennessee and Southern KY. Our prevention education and training programs are provided throughout the state of Tennessee.
TN - Cheatham
TN - Davidson
TN - Dickson
TN - Houston
TN - Montgomery
TN - Robertson
TN - Stewart
TN - Sumner
TN - Williamson
TN - Wilson
TN - Rutherford
TN - Lawrence
TN - Lewis
TN - Bedford
TN - Cumberland
TN - Franklin
TN - Maury
TN - Cannon