The IBMA Foundation, Inc.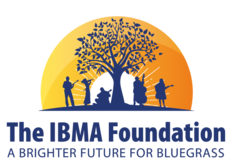 DONATE NOW
4206 GALLATIN PIKE
Nashville, TN 37216
Programs
Budget
$9,500.00
Description
The Sally Ann Forrester College Scholarship awards $1000/year to a female bluegrass musician, to help with college expenses.
The IBMA Bluegrass College Scholarship awards $1000/year to a student pursuing bluegrass music on the college level.
The Arnold Shultz Fund is awarding $5000 for it's first round of grants in 2021, to encourage participation in bluegrass by people of color.
The Neil Rosenberg Bluegrass Scholar Award is a $500 annual award to the scholar who writes and makes the best bluegrass music-related presentation at an academic conference.
The Rick Lang Music Songwriter Scholarship awards $2000 to a bluegrass songwriter for college expenses.
Beneficiaries
Adults
Females
Minorities
Program Areas Served
National

Budget
$17,000.00
Description
The IBMA Foundation gives away $14,000 annually in project grants and $3000 in mini-grants to support bluegrass-related programs and events in the areas of education, artistic endeavors and historic preservation. For info on the application process, please go to bluegrassfoundation.org.
Category
Arts, Culture & Humanities
-
Music
Beneficiaries
Adults
Children and Youth (0 - 19 years)
International
Program Areas Served
None
Budget
$3,000.00
Description
IBMA Mini-Grants of $300/each are given throughout the year to schools and organizations, to help pay bands to do live, educational programs about bluegrass music for students in schools and camps. Please go to bluegrassfoundation.org for info on the application process.
Beneficiaries
Children and Youth (0 - 19 years)
Program Areas Served
None