Achilles International Inc.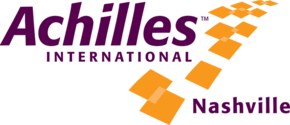 DONATE NOW
234 Boxmere Place
Nashville, TN 37215
Programs
Description
Achilles International-Nashville: The Nashville Chapter of Achilles pairs disabled athletes and able-bodied athletes to enjoy the camaraderie of running/walking at weekly runs and local mainstream races. The Nashville Chapter also participates in two of the national programs: The Freedom Team and the NYC Marathon. The Freedom Team of Wounded Veterans began in 2004 as a rehabilitation program at Walter Reed Army Medical Center sponsoring and training recently wounded veterans to participate in marathons around the world. This program has since expanded to Brooke Army Medical Center and Balboa Naval Hospital. Currently, there are more than 350 Freedom Team members. Achilles sponsors hundreds of athletes with disabilities from 30-60 countries to participate in the New York City Marathon each November. Achilles pays all race fees, supplies guides on race day, assists with transportation, lodging, interpreters, and sponsors several events while the athletes are together in NYC to share stories, support and boost morale.
Program Areas Served
None

CEO/Executive Director/Board Comments
Currently, our biggest opportunity is also our biggest challenge, and that is growth. We want to be intentional as we keep up with the excitement and growth our Achilles chapter, maintaining the quality of our program, with the personal connection that so many enjoy. Since the Nashville chapter began in 2012, we have grown to over 600 athletes and guides. We strive to serve our athletes with disabilities the attention they deserve, and provide every volunteer guide with the skills and training to safely guide these athletes. We continue to reach out to the disability community to build awareness and to manage our current membership. We have a vision where every person with a disability in Middle Tennessee knows about Achilles, and has the ability to participate if they so choose. We are increasing our fundraising efforts and grant applications to be able to assist all athletes with transportation, running hydration & nourishment, safety equipment, and race fees/expenses, in an effort to keep up with continued growth. If we can achieve this, we have the opportunity to better the lives of those with disabilities and make our community stronger.