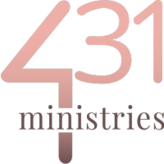 DONATE NOW
P.O. Box 752
Spring Hill, TN 37174
Statements
Mission
431 Ministries tends to the needs of the overlooked and underserved women of Middle TN by providing safety and stability, giving them hope and a plan for an independent future. Specifically, we help shoulder the burdens of single mothers, so that the generational cycle of single motherhood can be broken.
Background
431 Ministries has been God's plan, more than anyone else's. Founders, Rachel and Justin Peck never set out to start a ministry - prior to launching 431, they were local farmers, with full time HR and marketing jobs! But God surprised them with with a new mission. In their own words,

"One woman after another just came to us looking for help… God just kept bringing them to our doorstep."

The Pecks dug in, and found that it wasn't just a couple of women who found themselves in crisis, there were many women in Middle Tennessee facing things like homelessness, domestic abuse, addiction, food insecurity and more. Something had to be done.

In 2018, 431 Ministries officially became a 501(c)3 with headquarters in Spring Hill, TN. God continued to send women to their doorstep, and help for these women beyond what just Rachel and Justin could provide.

431 Ministries began partnering with The Refuge Center to help cover the costs of counseling services to women in our care. We added board-members and regular volunteers, who have moved the mission forward by bringing their God given talents to the table, like marketing, grant-writing and even plumbing!

As we look to the future, we know there is much work to be done to carry out our mission. We know that we'll be able to serve more women, as we add new roles, like an Executive Director and Marketing Interns. We know that we will be able to serve more women and their children, as God makes a building possible for the ministry. We know that with God's hand, and your support, even our loftiest dreams of eliminating things like homelessness, food scarcity and domestic abuse in Middle, TN are possible.
Impact
In 2020, 431 Ministries served three times as many women as previous years, largely in response to Covid-19.
In October of 2020, a Tiny House build, labor and materials were donated to 431 Ministries to act as a safe house for women.
In 2020, we added our first paid position, two board members and grant-writer volunteers. This year, we've had women overcome domestic abuse, homelessness and food scarcity.

So far in 2021, we have purchased our first location (in cash!) and are working to renovate it into a cafe, counseling center and childcare center for the women that we serve. This location has the potential to not only impact hundreds of our clients, but their families and the general larger community as we build in a food desert.
Needs
431 Ministries's biggest need is for our building to be completed. With it, we will be able to more efficiently serve the women we work with. We'll be able to offer counseling on site, rather than at a third party location, offer women who need income a job in our onsite market, as well as childcare and other community services. We've been steadily working towards the financial goal of $500,000 to cover the cost of renovations. This will make the biggest impact on the Middle Tennessee community.

Our next biggest area of need is hands on deck. We are actively searching and praying for the right construction specialists, counselors and interns to help with grant writing and marketing.

Finally, any financial donations go directly to helping the women already in our care. These donations cover immediate needs like food, shelter and clothing, as well as long term needs like counseling or rehab services. Your financial support may also be donated directly to specific programs, like the StartingHouse Initiative that helps women as they transition into living completely independently.
Board Chair Statement
431 Ministries exists to show women that there is a different way. Women who are isolated, overlooked, ignored and underserved often feel like they have no choices, leading to forced decisions for the sake of their families. These decisions are frequently the precursor to a crisis, from familial to monetary and everything in between. We want to support these women, shoulder their burdens and help them build hope and a future.
Service Categories

Primary Category:

Human Services

-

Family Services

Secondary Category:

Housing, Shelter

-

Housing Support

Tertiary Category:

Mental Health & Crisis Intervention

-

Sexual Assault Services
Areas Served
We serve women in all 40 counties that are considered Middle Tennessee. Specifically: Stewart, Houston, Humphreys, Perry, Wayne, Montgomery, Dickson, Hickman, Lewis, Lawrence, Robertson, Cheatham, Davidson, Williamson, Maury, Marshall, Giles, Sumner, Wilson, Rutherford, Bedford, Moore, Lincoln, Macon, Trousdale, Smith, Dekalb, Cannon, Coffee, Franklin, Clay, Jackson, Putnam, White, Warren, Grundy, Overton, Van Buren, Pickett, and Fentress counties.
TN - Maury
TN - Stewart
TN - Houston
TN - Humphreys
TN - Perry
TN - Wayne
TN - Montgomery
TN - Dickson
TN - Hickman
TN - Lewis
TN - Lawrence
TN - Robertson
TN - Cheatham
TN - Davidson
TN - Williamson
TN - Marshall
TN - Giles
TN - Sumner
TN - Wilson
TN - Rutherford
TN - Bedford
TN - Moore
TN - Lincoln
TN - Macon
TN - Trousdale
TN - Smith
TN - DeKalb
TN - Cannon
TN - Coffee
TN - Franklin
TN - Clay
TN - Jackson
TN - Putnam
TN - White
TN - Warren
TN - Van Buren
TN - Overton
TN - Pickett
TN - Fentress