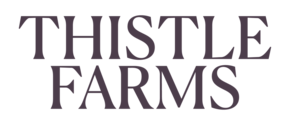 DONATE NOW
5122 Charlotte Avenue
Nashville, TN 37209
Statements
Mission
Thistle Farms is a nonprofit social enterprise, based in Nashville, TN, dedicated to helping women survivors recover and heal from trafficking, prostitution, and addiction. We provide a safe place to live, a meaningful job, and a lifelong sisterhood of support because we believe love is the most powerful force in the world.
Background
Women come to Thistle Farms after experiencing a continuous cycle of abuse, unemployment, poverty, and imprisonment due to past trauma, criminal histories, and addictions. Often this cycle is rooted in severe childhood abuse, traumatic loss and/or neglect. A majority of Thistle Farms residents experienced sexual abuse beginning between ages 7 and 11, and alcohol and drug usage by age 13. These early experiences gave way to homelessness, addiction, prostitution, trafficking, further abuse, and incarceration. Over 90% of residents have gone through short-term treatment programs only to relapse, return to the street, and be jailed again. At Thistle Farms we do not ask what you did, we ask what happened to you. It has taken broken systems for women to end up on the street, so we believe it will take loving communities to bring them into recovery. We seek to offer unconditional love without judgment and to end a culture that allows human beings to be bought and sold.
Impact
This year Thistle Farms Residential Program has housed 29 women and served 8 women inside prison walls. We are expecting our largest cohort of graduates this year with 9. Each woman will be able to move into her own apartment employed, sober, and able to live independently. Follow-up reports on women up to 12 to 24 months after graduation found that 88.5% are still sober, employed and successfully living on their own. Thistle Farms Social Enterprises sold over $3.8 million in revenue in FY19, an increase over the previous fiscal year. Women survivors employed by Thistle Farms earned more than $1.3m in income. Thistle Farms Global partnered with and supported 28 organizations in 20 countries. Sales of global products through Thistle Farms' channels contribute to the fair wages of 4,005 women around the world. The Cafe at Thistle Farms welcomed more than 70,000 guests through its doors last year. The Thistle National Network hosted over 300 guests for quarterly workshops designed to help leaders replicate our housing-first model in their own community. We currently provide support to 43 sister organizations that provide over 300 beds across the country dedicated to supporting women survivors of trafficking, prostitution, and addiction. 22 more houses are under development. We continue to work toward goals that include: 75% of women completing phase one of Thistle Farms Residential will successfully graduate 20 months later clean, employed, reconnected with family, and ready to live independently. Thistle Farms has started it's internal workforce development program called Ready Set Succeed and the first group of 9 women are weeks from completion. We have kicked off the second phase of our growth campaign that will increase the number of beds and services for survivors in Nashville. We are growing the National Network. Growing an aligned global network of survivor groups engaging in social enterprises designed to increase dignity and economic freedom for women survivors of sexual assault and trafficking. Employees will feel valued and understand how their role positively contributes to our mission. Volunteers will have opportunities for meaningful engagement when we are able to provide those again.
Needs
Local Collaboration: Up to 20% of Thistle Farms' operating budget reimburses local partners who provide holistic care to residents at a reduced price. These partnerships are an integral part of Thistle Farms' promise to meet residents' needs at no cost to the women. Strong partnerships with local employers are vital to sustaining residents' and graduates' success. These employers offer women a sustainable means of employment, despite criminal records and mental health issues that are typically barriers to employment.Affordable Housing: Thistle Farms is committed to helping every graduate access safe and affordable housing upon completion of our two-year Residential program. Metro estimates that 3,800 new affordable housing units will need to be built each year to meet the needs of Nashville's growing population. With Thistle Farms' graduates competing against Nashville's burgeoning population for these affordable units, we do not expect housing to be fully attainable without cooperation from willing property owners and developers.
CEO Statement
The Thistle Farms community makes every effort to be a witness to the truth that love is the most powerful force for change in the world. That truth has been revealed to us in countless ways over the past two decades as we have watched and been part of the healing that occurs daily. We are grateful for this witness and for the opportunity we have had to grow one of the nations most dynamic social enterprises as well as help more than 40 other communities replicate this model. Thistle Farms was founded not just to help a sub-culture of women, but to help change the culture itself. We stand in solidarity with women who are recovering from sexual abuse, violence, and life on the streets, and who have paid dearly for a culture that buys and sells women like commodities. Our statistical success has occurred because we provide a long-term, disciplined, and compassionate community, where very isolated women have the opportunity to heal from deep wounds that date back to childhood.
Board Chair Statement
From our former Board Chair- Sherry Stewart Deutschmann. It has been an honor and a privilege to be associated with Thistle Farms for over 15 years, initially as a volunteer and supporter and for the past 5 years as a Board member and now Chair of the Board. One of the most meaningful aspects of being involved with Thistle Farms is the opportunity to be in relationship with the residents and graduates and particularly to witness the amazing transformation that occurs as the women are nurtured, supported and loved through their two years in the program. I have literally not recognized some of the women after even one year in the program compared to when they first walked through the door. The transformation after two years is nothing short of miraculous. At Thistle Farms, it seems that our successes and challenges are inter-related to some degree. A success we celebrated recently at Thistle Farms was the graduation of nine women, each of whom stayed sober/clean the entire two years they were in the program, were employed in good jobs and had been able to find housing. The challenge associated with this success is for the women to keep their jobs and housing and to meet other unexpected needs as they leave the highly supportive environment of the two-year residential program to be on their own. One of the biggest challenges we face is supporting our graduates for years to come after they graduate from the program. We have plans to have a person dedicated to this effort. Another success is selling over $2,000,000 in products in the past year. We were able to do that through the great work of our manufacturing and shipping teams, as well as our marketing teams and the women who travel with President and Founder Becca Stevens to share the mission of Thistle Farms. The related challenge is needing to expand the space for our manufacturing and shipping teams in order to continue to grow our sales. So, our current challenge is securing funding and finding a larger space for our manufacturing and shipping teams. For a few years now, we have offered education sessions on a bi-monthly basis to individuals and organizations that are interested in starting programs like our residential program and/or our social enterprise. The challenge for us is again one of space. Assuming we can find new space for manufacturing and shipping, we intend to renovate existing space to include an education session that will allow us to invite even more people and organizations to come learn from our experiences. We are celebrating finding an excellent Chief Executive for Thistle Farms, Hal Cato. Hal's years of non-profit and business experience are invaluable to our organization as we grow. Some of the challenges on Hal's plate that we on the board take an interest in are: increasing employees' hours so they can earn a true living wage, increasing the level of professionalism in the workplace while balancing the unique needs and concerns of the residents and graduates who work at Thistle Farms, and finding companies to partner with so more of our residents and graduates can find good jobs.
Service Categories

Primary Category:

Human Services

-

Homeless Services/Centers

Secondary Category:

Mental Health & Crisis Intervention

-

Substance Abuse Dependency, Prevention & Treatment

Tertiary Category:

Employment

-

Sheltered Employment
Areas Served
Although the majority of residents are from Middle Tennessee, Thistle Farms regularly get calls from across the United States about admittance to our Residential Program. Thistle Farms presence on a national level is bolstered by the Thistle National Network, fostering relationships with and supporting sister organizations in 24 different states. Globally, Thistle Farms Global supports the employment of women in 20 different countries.