The IBMA Foundation, Inc.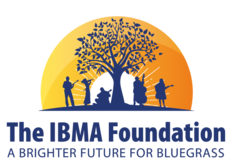 DONATE NOW
4206 Gallatin Pike
Nashville, TN 37216
Statements
Mission
The IBMA Foundation is the philanthropic organization that supports programs and initiatives fostering the growth of bluegrass music. By connecting resources to projects that focus on bluegrass music-related arts and culture, education, literary work, and historic preservation, we help donors create a legacy to benefit future generations of musicians and fans.
Background
The IBMA Foundation originated as a 501 c (3) nonprofit charitable organization created by the International Bluegrass Music Association in 2007 to support bluegrass music-related educational, literary, artistic and historic preservation activities. Our goal is to support the future of bluegrass music by funding educational programs and events that share bluegrass with the next generation of fans and musicians. Early accomplishments include the production of the Discover Bluegrass: Exploring American Roots Music" educational DVD for grades 4-7 which has been distributed nation-wide and internationally to schools, libraries and home schooling parents; dozens of 'Utilizing Bluegrass Music in the Classroom' workshops for classroom and music teachers K-12, for professional development credit; a Bluegrass Lesson Plans annual competition; Bluegrass in the Schools Mini-Grants awarded through the year ($300) to help pay bands to do live, educational presentations of bluegrass music at schools; and Project grants now totaling around $14,000/year. We are a clearinghouse of information for college-level bluegrass degree and ensemble programs, bluegrass camps and workshops for young people, and a network for public school teachers who include bluegrass music in the classroom or in after-school programs. In 2019 we initiated the Rosenberg Bluegrass Scholar Award to recognize excellence in the academic world. * During World of Bluegrass week in Raleigh, NC, the last full week of September, The IBMA Foundation co-hosts a booth with three other IBMA organizations in the expo hall, a College Bluegrass Band Showcase is held on Friday and Saturday nights with 13 bands, a Bluegrass College Educators Luncheon is planned as well as a Bluegrass College Info Session, and we have an on-site board meeting. IBMA often schedules an academic research-themed seminar during the week which the IBMA Foundation helps to promote. The IBMA Foundation has awarded more than $92,000 in annual grants since 2011 to educational programs for children, scholarship funds and film documentaries based in Alaska, California, Colorado, Connecticut, Indiana, Kentucky, Louisiana, Maine, Maryland, Missouri, New York, North Carolina, Ohio, Pennsylvania, South Carolina, Tennessee, Virginia, Washington, West Virginia, Washington, Wyoming and Japan. More than $20,000 has been awarded in year round mini-grants since 2011, to help pay bluegrass bands present educational , music programs in school.
Impact
Our top three accomplishments from 2018-19 include: 1. Funding the largest amount in annual educational grants in the history of our organization, to the following groups: The Bluegrass Music Hall of Fame & Museum (educational tours) - Owensboro, KY; The Bradford House Historical Association (Exploring the Roots of Bluegrass at the Whiskey Rebellion Festival) - Washington, PA; California Bluegrass Association Father's Day Festival (Fostering Closer Ties with Japanese Pickers and Fans) - Grass Valley, CA; City of Morganton, NC Parks & Recreation (Junior Appalachian Musicians "JAM' Program) - Morganton, NC; Durango Music Meltdown (Bluegrass in the Schools Program) - Durango, CO; The Hindman Settlement School (Pick & Bow After-School Music Program) -Hindman, KY; The Kanack School of Musical Artistry (Bluegrass Program) - Rochester, NY; The Monroe Mandolin Camp - Nashville, TN; San Diego Bluegrass Music Society (Summergrass Kids Camp) - San Diego, CA; and The Wintergrass Youth Orchestra - Bellevue, WA. 2. Creating an endowment fund with The Community Foundation of Middle Tennessee which will help fund educational grants in perpetuity. 3. Awarding the Rosenberg Bluegrass Scholar Award to recognize excellence in academic research and writing; compiling an online list of colleges and universities that offer degree programs and ensemble opportunities in bluegrass and related genres; publishing a monthly enewsletter, 'The Cornerstone' with a high click-through rate; and hosting a two-day showcase featuring 13 college bluegrass music bands at IBMA's World of Bluegrass in Raleigh on their Youth festival stage. Our goals for 2019-20 include: 1. Increase fund development efforts and planned giving options, in order to fund more grants to deserving, bluegrass education-related programs and events 2. Updating our branding, marketing and communication efforts, including website and social media efforts/impressions 3. Plan and organize a 'Utilizing Bluegrass Music in the Classroom' teacher workshop for professional development credit in partnership with the Country Music Hall of Fame and Museum in Nashville and collaborators in Bell Buckle, TN, for teachers and homeschooling parents in the middle Tennessee region.4. Implement new sponsorship opportunities to help underwrite IBMA Foundation programs and events.
Needs
1. Donations and planned giving to fund an increasing annual of bluegrass music-related educational grants 2. Sponsorships for specific IBMA Foundation programs and grants are available.3. Increased publicity and promotion of our mission and activities 4. Funding for the new bluegrass music academic scholar annual prize 5. Funding for a new IBMA Bluegrass College Scholarship for students studying bluegrass on the college level. 6. Funding for Sally Ann Forrester College Scholarship for female bluegrass musicians 7. More bands interested in presenting educational programs on bluegrass music at schools and increased funding for Bluegrass in the Schools Mini-Grants which support this effort 8. Updated website and Facebook pages, video and branding, increased staff hours, funding to support third national/international academic Bluegrass Music Symposium
CEO Statement
At the IBMA Foundation we are primarily concerned with supporting the future of bluegrass music. Our grants and programs help introduce the next generation of musicians and fans to this uniquely American genre of music that has now spread literally around the world. In a nation and a world that is divided in so many ways, music is something that unites us. Scientific research also shows that studying music can have a positive impact on brain development and academic success, as well as helping older individuals remain active and engaged--both mentally and socially in the bluegrass music community--which begins locally and regionally, and stretches around the world. In short, we've found bluegrass music to be a very positive force in our lives and in the world, and we are passionate about sharing it with others. We want to make the world a better place with bluegrass music. Come join us! --Nancy Cardwell, IBMA Foundation Executive Director
Service Categories

Primary Category:

Arts, Culture & Humanities

-

Music

Secondary Category:

Arts, Culture & Humanities

-

Arts Education

Tertiary Category:

Education

-

Support NEC
Areas Served
In 2018-19 we hosted two Bluegrass College Band Showcases in NC, and we worked with the Swiss Bluegrass Music Association to have our 'Discover Bluegrass' educational DVD translated to German for use in Europe. Our project grants in 2019 were awarded to programs in Kentucky, Pennsylvania, California (a collaboration with Japan), North Carolina, Colorado, Tennessee and Washington state. Mini-grants to fund bluegrass band presentations at local schools were funded in several more states.
TN - Davidson
National
International