Nashville Tools For Schools, Inc.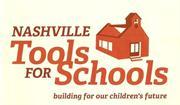 DONATE NOW
Post Office Box 158480
Nashville, TN 37215
Statements
Mission
Nashville Tools for Schools is a 501(c)(3) that is 'building for our children's future'. Our mission is to furnish custom projects, at little-to-no cost, which enrich the student learning environment. We provide custom desks, tables, book shelves, smart board platforms, garden beds, and countless other classrooms necessities to many schools within the MNPS system.
Background
In June of 2006, John Carpenter started Nashville Tools for School in a shed at his home. John's vision was to improve MNPS schools and related institutions with the completion of small construction projects and low-cost furniture. The first project completed by John and a very small team of volunteers was a drywall repair at Hillsboro High School. John and the Nashville Tools for Schools volunteers would graduate from the backyard shed to a four-bay workshop at Hillsboro High School, and in May 2017, NTFS entered into a lease agreement with MNPS wherein NTFS has rent-free occupation of a workshop located on Foster Avenue in Nashville. NTFS established Non-Profit 501C3 status in April 2011. NTFS was a recipient of the 2010 Alignment Nashville award for developing community leaders, 2010 Daily's Difference Maker Award, 2010 Mayor's Award for Outstanding System-wide Partner, and the 2009 Honorable Mention Mayor's Award for System-wide Partner.
Impact
Accomplishments:1.) Due to renovation of the MNPS building in which NTFS had been housed for the last decade, NTFS was forced to secure a new workshop in which to continue operations. Thanks to the diligent effort and collaboration of NTFS management, volunteers and the Metro Nashville School Board, NTFS relocated to a wonderful, rent-free workshop on Foster Avenue in May 2017. NTFS operations continue to thrive at this new site.2.) Nashville Tools for Schools has been the grateful recipient of a number of grants in 2019, including $3500 in grant funds from Schneider Electric, a $2500 grant from Woodmont Christian Church, a $2500 grant from the Community Foundation of Middle TN, a $2000 grant from West End United Methodist Church, a $2500 grant from the Sertoma Club of Nashville and a $5000 grant from the Nashville Predators Foundation. With this year's school budget shortfall, grants such as these are particularly important in helping NTFS provide a variety of custom made, low-cost products to under-funded and under-performing schools within MNPS. 3.) NTFS has expanded its volunteer base of both regular and one-time volunteers, many of whom are highly-skilled and have taken on increased responsibility in our workshop. 4.) NTFS continues its focus of promoting awareness about our organization. We continue our exposure on both Facebook and Twitter and NTFS is also currently engaged in a cooperative update of its website through its community partnership with Hands on Nashville. In January 2019, NTFS entered into an Independent Contractor Agreement with a Marketing Director whose duties include marketing, public relations and fundraising on behalf of NTFS.5.) NTFS continually strives to increase the number of schools for which we complete needed projects each year. We hope to increase the community support we receive, both financially and through the donation of goods and services, in order to increase the number of students and teachers we are able to serve. Pursuant to NTFS' agreement with its Marketing Director as referenced above, NTFS will continue to secure community support and deliver an increased number of high-quality products to schools throughout Nashville.Goals:1.) As NTFS secures sustainable support and funding from individuals and community organizations, material costs currently paid by schools will be reduced or eliminated. 2.) NTFS has entered into a contract with a Marketing Director who is tasked with assisting with day-to-day workshop administration and fostering continued growth of NTFS service provision and development.3.) As NTFS works towards a larger Board of Directors, NTFS aims to establish an active Advisory Board which will include, but not be limited to, volunteers who are involved with the organization who provide feedback to the Board of Directors to assist in their decision-making. As of July 2019, NTFS Board of Directors consists of 10 members, with potential additions to the board in coming months.
Needs
In addition to NTFS' current grant funding, NTFS would like to secure a minimum additional $10,000 in grants for each of the next three years for the purpose of reducing the costs of projects to the schools and/or teachers. NTFS would like to further its reach to MNPS and potential donors/sponsors via increased marketing efforts. NTFS would like to secure and extend its existing workshop lease with MNPS, which currently expires in 2020.
CEO Statement
NTFS has continued to serve Metro Nashville Public Schools by providing quality products and services at little to no cost to schools that already struggle with limited funding. Each project improves the classroom setting and learning environment for both teachers and students. The addition of a bookshelf makes storage of and access to learning materials much easier. Building a classroom pedestal that allow students to use a whiteboard makes use of that technology easier. Building garden beds provides an opportunity for students to learn about both the scientific basis and the community benefit of growing food. Building ADA-approved access to those same garden beds allows all children equal opportunity to be included in instruction.NTFS has built stages, bookshelves, tables, nurses stations, as well as storage cabinets and classroom materials. These are but a few examples of the many things that NTFS has done to improve schools, classrooms, student environment, and learning atmosphere. These projects, and hundreds of others, have been provided at little to no cost, which allows schools to maximize their limited budgets. Additionally, NTFS has increased its stable core of highly-skilled volunteers who complete quality products and assist with overall shop management. These developments further solidify NTFS' foundation for continued growth.
Board Chair Statement
NTFS has received an increased amount of grant funding this year, thereby enabling our organization to provide a greater number of projects with grants covering 90% of project costs. Our goal is to secure sufficient grant funding to cover 100% of project costs for teachers. Our volunteer staff has increased such that NTFS can put more projects into production, allowing quicker delivery to teachers.One of our main goals is to raise awareness of NTFS and the large numbers of services we provide to teachers all across MNPS.
Service Categories

Primary Category:

Education

-

Educational Services

Secondary Category:

Public & Societal Benefit

-

Public & Societal Benefit NEC

Tertiary Category:

Education

-

Educational Services
Areas Served
Our primary focus is on public schools within the Metro Nashville Public Schools system that are in need of low-cost, high-quality construction, repair and improvement projects.