Nashville Tools For Schools, Inc.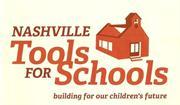 DONATE NOW
Post Office Box 158480
Nashville, TN 37215
Statements
Mission
Nashville Tools for Schools is a 501(c)(3) that is 'building for our children's future'. Our mission is to furnish custom projects, at little-to-no cost, which enrich the student learning environment. We provide custom desks, tables, book shelves, smart board platforms, garden beds, and countless other classrooms necessities to many schools within the MNPS system.
Background
In June of 2006, John Carpenter started Nashville Tools for School in a shed at his home. John's vision was to improve MNPS schools and related institutions with the completion of small construction projects and low-cost furniture. The first project completed by John and a very small team of volunteers was a drywall repair at Hillsboro High School. John and the Nashville Tools for Schools volunteers would graduate from the backyard shed to a four-bay workshop at Hillsboro High School, and in May 2017, NTFS entered into a lease agreement with MNPS wherein NTFS has rent-free occupation of a workshop located on Foster Avenue in Nashville. NTFS established Non-Profit 501C3 status in April 2011. NTFS was a recipient of the 2010 Alignment Nashville award for developing community leaders, 2010 Daily's Difference Maker Award, 2010 Mayor's Award for Outstanding System-wide Partner, and the 2009 Honorable Mention Mayor's Award for System-wide Partner.
Impact
Accomplishments:
1. Approximately 86 projects have been completed by NTFS since August 2019. We estimate that these projects impacted/benefitted approximately 7,000 students. Approximately 19 of these 86 projected were completed since January 2020.
2. In response to the COVID-19 pandemic, NTFS has completed approximately 285 plexiglass safety screens as of September 2020, and we anticipate that we will be producing additional screens during the remainder of the year. These screens have been distributed to schools all across Nashville, and they will positively impact the health and safety of a significant portion of the student and teacher population Metro-wide.
3. NTFS is the grateful recipient of four grants this year from Schneider Electric North America, West End United Methodist Church, The Sertoma Club of Nashville and Woodmont Christian Church. Additionally, NTFS participated in The Big Payback sponsored by The Community Foundation of Middle Tennessee, wherein we raised $1741.00. With this year's COVID pandemic, as well as ongoing school budget shortfalls, these funds are particularly important in helping NTFS provide a wide variety of custom-made, low-cost products to underfunded and underperforming schools within MNPS.
4. We continue to increase our exposure on Twitter and Facebook, and with the assistance of our community partner Hands on Nashville, NTFS completed the update to its website and the site is much improved and working well.
5. As part of NTFS' ongoing collaboration with MNPS, we continue to operate in a wonderful, rent-free workshop located on Foster Avenue, and we have been advised that our occupation of that space is secure for at least two more years.
6. NTFS continually strives to increase the number of schools for which we complete needed projects each year and we hope to increase the community support we receive both financially and through the donation of goods and services in order to increase the number of students and teachers we are able to serve.
7. As of September 2020, NTFS has increased its Board of Directors to 11 members.

Needs
In addition to NTFS' current grant funding, we would like to secure a minimum additional $10,000 in grants for each of the next three years for the purpose of reducing project costs to the schools and teachers. NTFS would like to further reach its goal of engaging MNPS and potential donors via increased marketing and implementation of an annual fundraising campaign, which is under development at this time. NTFS also plans to participate in 2021's The Big Payback, but we need to identify and secure matching donors for this event to increase the amount we will be able to raise.
Board Chair Statement
NTFS is incredibly grateful for the grant funds we have received this year, as well as the donations that we received through The Big Payback. These donations enable our organization to provide a greater number of projects with grants covering 90% of project costs. Our ultimate goal is to secure sufficient funding to cover 100% of project costs for schools and teachers. NTFS has a dedicated staff of highly-skilled volunteers who produce high-quality projects in a timely fashion with speedy delivery to the schools. We are honored to have provided approximately 285 safety screens to schools all across Metro Nashville which help ensure the health and safety of students and teachers as they return to their school buildings. We always want to increase awareness of NTFS and the large number of services we provide, and we are currently pursuing this goal with regular updates to our website and to social media as well as through the development of an annual fundraising campaign.
Service Categories

Primary Category:

Education

-

Elementary & Secondary Schools

Secondary Category:

Youth Development

-

Tertiary Category:

Community Improvement, Capacity Building

-
Areas Served
Our primary focus is on public schools within the Metro Nashville Public Schools system that are in need of low-cost, high-quality construction, repair and improvement projects.