Nashville Tools For Schools, Inc.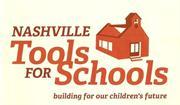 DONATE NOW
Post Office Box 158480
Nashville, TN 37215
Programs
Description
Our program believes in "a desk for every student, a shelf for every book". Our focus is on building high-quality, low-cost products that enhance the teacher/student learning environment, as well as making general repairs and improvements to educational facilities in the Nashville/Davidson County Area.
Program Areas Served
None

CEO/Executive Director/Board Comments
Along with many other nonprofit organizations, Nashville Tools for Schools ("NTFS") faced significant challenges this year due to the COVID-19 pandemic. Due to the outbreak and the resulting nonessential business closures, NTFS was forced to shut down workshop operations between March and July. The workshop has only recently reopened during limited hours and with limited staff in order to observe all necessary health and safety protocols required during the pandemic.

Further, as schools were also forced to close due to COVID-19, NTFS has seen a significant reduction in the number of project requests. However NTFS is proud to report that, at the request of Metro Nashville Public Schools, we were able to build approximately 285 plexiglass safety screens that were provided to every school in Metro Nashville. We are now also taking project requests from Nashville area community centers that provide after-school programs to Metro students. We are proud that, despite the pandemic, we have still been able to serve our students and teachers, and we anticipate a continued increase in project requests as schools begin to reopen.

An another challenge we faced is our ongoing need to increase our fundraising in order to complete a greater number of projects for an even larger number of schools at little-to-no cost. Two grants that were received in 2019 were not renewed for 2020. Additionally, NTFS' Board of Directors had put into place plans for implementation of a new annual fundraising campaign, but this too was postponed due to COVID. We are now hoping to move forward with our annual campaign in Fall 2020, and we will continue to renew existing grant applications and seek out new grant opportunities to support our mission of "building for our childrens' future".