Nashville Tools For Schools, Inc.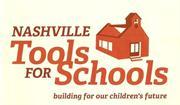 DONATE NOW
Post Office Box 158480
Nashville, TN 37215
Programs
Description
Our program believes in "a desk for every student, a shelf for every book". Our focus is on building high-quality, low-cost products that enhance the teacher/student learning environment, as well as making general repairs and improvements to educational facilities in the Nashville/Davidson County Area.
Program Areas Served
None

CEO/Executive Director/Board Comments
The main challenges for our organization continue to be funding, visibility within the schools and meeting increased project demand from schools.Because of the limited monies and materials at our disposal, particularly with the recent Metro Schools budget cuts, we must limit the number of projects we can complete for under-served/underfunded schools. To help raise monies to complete projects for these schools, we apply for grants at every opportunity. In 2019, NTFS has received generous grants from Schneider Electric, West End United Methodist Church, The Sertoma Club of Nashville, Woodmont Christian Church, The Community Foundation of Middle TN and The Nashville Predators FoundationMost new projects are initiated through word of mouth among teachers and principals who share information about services that have been provided by NTFS. Additionally, NTFS has entered into a contract with a Marketing Director, who is tasked with marketing NTFS products and services and increasing NTFS' visibility within the community. While our goal is to increase the number of projects and services we can provide, we are limited in our capacity due to the limited number of regular volunteers. We are fortunate that the number of highly-skilled, regular volunteers that work at NTFS has increased over the last year, and a number of them have taken on increased managerial roles within the shop, so it is our hope that we will have more volunteers who are willing to take on the detailed responsibilities of project managers. The board is continually looking at options to recruit more project managers.