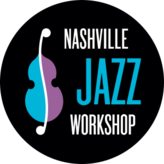 DONATE NOW
1012 Buchanan Street
Nashville, TN 37208
Statements
Mission
The mission of the Nashville Jazz Workshop is to expand and enrich people's lives through music by offering world class jazz education and performances in a supportive and creative environment.

Background
The organization was founded in 1998 by Lori Mechem and Roger Spencer as a music school where jazz would be taught, performed and preserved. The NJW incorporated as a nonprofit in 2000, which allowed the organization to begin fundraising and apply for grant support. Over the years, community support has permitted the Workshop to expand its educational and performance programs and community outreach efforts.

The NJW has designed a workshop environment where jazz professionals pass on their knowledge and skills via the time-honored journeyman/apprentice approach, where novice jazz players learn from accomplished masters.

Our classes are intended for both experienced and beginner students. The curriculum includes jazz appreciation for non-musicians who want to learn more about the Jazz canon and its history.

We produce an annual Summer Jazz Camp for students in partnership with Blair School of music and we offer scholarships for students unable to afford the tuition.

We produce community performances to promote the public's appreciation of jazz. Regular performances are held at the Workshop's facility and at venues around the city, including the Frist Art Museum, the Nashville Public Library, Parnassus Books, the Downtown Art Crawl, and more. We produce in-home concerts for small groups and special performances for seniors.

We embrace diversity among our faculty, staff, and students as a means of achieving excellence in education, as a stimulus for innovation and problem solving, and to ensure a culture of inclusion.


Impact
By providing a focus for jazz performance and education and by serving diverse populations across the community, the NJW has served as a bridge between communities and established a vibrant and energetic jazz scene. The NJW has helped countless musicians and fans improve their skills and deepen their appreciation for this uniquely American art form. Quite simply, Nashville could not claim to be "Music City" without the NJW.

The NJW has been a vital contributor to the creative economy, more specifically the creative community of jazz artists. Over its 20 years the NJW has paid over $2 million to professional jazz artists for teaching and performance. Over time these payments have comprised one quarter to one third of the NJW's overall budget.

Recent Major accomplishments:

(1) Visits by artists of national stature, including Marvin Stamm, Tamir Hendelman, Oscar Castro Neves, Kenny Barron, Peter Bernstein, and legendary songwriters Marilyn & Alan Bergman.

(2) Awards: NJW has been named as one of the Downbeat Magazine top 150 jazz venues in the world for eight straight years; the Jazz Journalists Association's "Jazz Heroes'' award went to Directors Lori Mechem and Roger Spencer; Nashville Music Pros gave an award to Lori Mechem as "Best Educator;" Nashville Scene 'Best of Nashville' award in 2018 for Best Jazz Performance Venue; Finalist for Center for Nonprofit Management's SunTrust "Business Acumen in the Arts" award in 2013.

(3) Growth of online presence, through Social Media engagement (Facebook, Twitter, and Instagram) and YouTube videos (youtube.com/nashvillejazz), with increasing numbers of viewers, locally, nationally, and internationally.

(4) Classes, performances, special events, and online offerings now reach well over 100,000 people in a year.

(5) Significantly expanded offerings for youth, including a summer jazz camp, a scholarship program for high school students, presentations and master classes in schools.

Priorities for the coming year:

(1) Successfully relocate from NJW's home of nearly 20 years in the Neuhoff complex to a facility on Buchanan Street in North Nashville and do so with minimal interruption to the delivery of services while maintaining our revenue flow.

(2) Broaden the local, national, and international audience for the NJW's programs and services.

(3) Refresh and focus the NJW's brand identity to increase awareness and ensure we are relating to the broadest possible audience.

(4) Deepen our relationships within the music and arts community; establish additional, productive partnerships throughout the community.

(5) Continue to expand course offerings and grow our online presence.

Needs
As a small non-profit, the NJW has on-going needs for financial support from the community, including cash donations and grant funding. We need a network of active volunteers to assist us with our activities and events. We need the public to be aware of our programs and to understand that the NJW plays a significant part in maintaining a diverse musical culture in Nashville and Middle Tennessee.

CEO Statement
The NJW is unique in its approach to jazz education. Classes range from beginner to pro level, taught by working, professional musicians. This apprenticeship style of education allows the students to not only hone their craft, but to learn the intricacies of a successful career in music. Classes also serve the non-musician, with courses about jazz appreciation and history. The six-week session format allows us to offer highly focused topics that universities with a semester format cannot. Just describing the classes does not capture the passion students have about the Workshop experience. University students and pros get a "finishing school" education that helps them move to the ranks of professional jazz musicians. Adult amateurs are thrilled to be able to learn and perform this music they have always loved. Students routinely report that the Workshop experience has "changed their life." The Workshop's performance venue, the Jazz Cave, regularly features performances from local, national, and international artists and is the best listening room for jazz in Nashville and the surrounding region, being recently recognized as the "Best Live Jazz Performance Venue 2018" by the Nashville Scene as well as being listed in Downbeat magazine's "Top 150 Jazz Venues in the World" for the eighth year in a row. Students and audience members love the Workshop and support it through volunteer work, financial contributions, and bringing friends to classes and performances. We realize that we are not only training jazz students and entertaining jazz fans, but are helping to build a community of jazz musicians and fans that cuts across economic, neighborhood, and ethnic lines and helps preserve jazz as a vibrant, growing art.
Board Chair Statement
The Nashville Jazz Workshop is grateful for the community support we continue to receive. As we continue to build larger, more diverse audiences and students, we are well positioned to realize even more ambitious achievements and to expand our influence in jazz in Middle Tennessee -- as well as in the greater musical community. As our journey as an organization continues, the Board has a critically important role to play. The Board has grown in size and diversity of talents, resources and backgrounds. We take care to ensure that as new Board members are added, they understand and support the mission of the NJW. The programs of the NJW have developed in a progressive sequence to reflect and implement the mission of the organization. Class tuition and admission fees provide partial support, but we also depend on individual and corporate contributions and grant funding to support the full range of NJW programs. Community support is a critical component of our revenue stream. We have increased the number and experience of our board to further our development efforts and to build awareness for the Workshop - allowing us to serve an even greater number of middle Tennessee residents. The NJW offers unique educational opportunities in a creative and supportive environment for jazz musicians at all levels. The performances in the intimacy of our Jazz Cave are remarkable. Our faculty and performers are truly world-class. In a city rich in music history, culture and opportunities, we are proud to be Nashville's community center for jazz. We will continue to expand and enrich peoples' lives through jazz education, training, and performances.
Service Categories

Primary Category:

Arts, Culture & Humanities

-

Music

Secondary Category:

Arts, Culture & Humanities

-

Arts Education

Tertiary Category:

Arts, Culture & Humanities

-
Areas Served
The Nashville Jazz Workshop is located in Metropolitan Nashville Davidson County. The Workshop serves students in Davidson as well as the following surrounding counties: Cannon, Cheatham, Dixon, Rutherford, Sumner, Williamson, and Wilson.
TN - Cannon
TN - Cheatham
TN - Davidson
TN - Dickson
TN - Rutherford
TN - Sumner
TN - Williamson
TN - Wilson