Tennesseans for Alternatives to the Death Penalty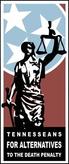 DONATE NOW
P.O. Box 120552
Nashville, TN 37212
Statements
Mission
Tennesseans for Alternatives to the Death Penalty (TADP) seeks to honor life by abolishing the death penalty in Tennessee. TADP works to accomplish this mission by educating Tennesseans about the problems with the death penalty system and empowering citizens to act for change.
Background
The death penalty system is an inefficient, arbitrary, and expensive government program that does not make our communities safer nor does it ensure swift and sure justice for victims' families. Tennesseans believe that all people should be treated equally under the law, but Tennessee's death penalty is applied unfairly, even for similar crimes. Some people are sentenced to die because they couldn't afford a better lawyer or because they live in a county that often seeks the death penalty. In fact, forty-six percent of Tennessee's death row comes from one county, Shelby County, while half of Tennessee's counties have never sent anyone to death row. The death penalty system risks the execution of innocent people with over 165 individuals nationwide released from death rows since 1973 after evidence of their innocence emerged, three of whom are from Tennessee. The State of Tennessee also continues to pay millions more to maintain this broken system than it would pay for a system with a maximum sentence of life without parole. TADP was formed in 1992, but belongs to a long line of Tennessee death penalty organizations dating back to the 1970s, when a group of state activists fought the death penalty's reinstatement in Tennessee. In 2006, Reverend Stacy Rector became the Executive Director, and over the last thirteen years, TADP has successfully worked with board members, supporters, and national partners to educate Tennesseans about the death penalty's myriad problems. In 2015, TADP launched Tennessee Conservatives Concerned about the Death Penalty (TNCC) and hired Amy Lawrence in July 2015. TNCC focuses its outreach on politically conservative Tennesseans who believe that the death penalty does not align with their conservative values. TADP is also a member of a coalition of mental health advocates and others called Tennessee Alliance for the Severe Mental Illness Exclusion (TASMIE), educating Tennesseans about why individuals with the most severe mental illnesses should not be executed. Because Shelby County disproportionately impacts Tennessee's death penalty system, in 2018, TADP partnered with Just City, a criminal justice reform organization in Memphis, to support the work of a community organizer in that area, who is creating awareness about the impact of the criminal justice system, including the death penalty, on Shelby County. Joia Thornton is currently leading this innovative collaboration.
Impact
Twenty-one states have ended the death penalty, nine of those in the past 12 years. Red states like Utah and Wyoming are considering ending the practice, and more conservative voices are raising concerns. TADP provides opportunities for critical conversations across Tennessee to create a climate for citizens to move away from the death penalty. TADP's work has led to: historically low death sentencing, with only two death sentences in Tennessee between 2013-2018. more voices, including death row exonerees, murder victims' families, and corrections staff, raising concerns. In 2019, working with Vanderbilt University, TADP brought Anthony Ray Hinton, former Alabama death row inmate and author of the book The Sun Does Shine, to Vanderbilt where 400 people heard his story of wrongful conviction. new relationships and alliances with conservatives and evangelical influencers. educating lawmakers on both sides of the aisle, as well as the governor, about the system's failures. working on reforms that will limit the use of the death penalty. TADP is a member of the TASMIE coalition which educates Tennesseans about why those with severe mental illness should be excluded from the death penalty. This educational effort led to legislation that passed through a key committee in the 2019 legislative session. educating citizens of Shelby County about the need to include the death penalty in local criminal justice reform efforts, given that 46% of Tennessee's death row comes from this county. In 2019, Joia Thornton initiated a Faith and Justice Event in Memphis which brought 45 faith and community leaders together for a meal and to travel the city by bus to visit People's Grocery, where three grocers were lynched (propelling the work of abolitionist Ida B. Wells); the lynching site of Lee Walker; Juvenile Court; and the city jail. The tour culminated with Sabrina Butler Smith, an exonerated death row inmate, sharing her story of how she was sentenced to death for a crime that she didn't commit. In August 2019, another major outcome of TADP's work occurred when Tennessee death row inmate Abu Ali Abdur' Rahman's death sentence was reduced to life in prison only eight months before he was scheduled to be executed. Mr. Abdur' Rahman spent 32 years on death row. Not only has TADP raised awareness about Mr. Abdur Rahman's case for decades, but our outreach and media work have educated the public about the death penalty's systemic problems, particularly the racial bias that infects the system. The public's growing understanding of these issues allowed the district attorney to publicly acknowledge and address the overt racial bias and prosecutorial misconduct in this case. In 2020, TADP will continue to create a climate more conducive to preventing executions in Tennessee; educate even more Tennesseans, particularly conservatives, about the system's problems; produce speaking and media opportunities; and identify stakeholders and messengers to publicly speak out about the issue. TADP will also develop a communications strategy to raise concerns about executing those with severe mental illness, the cost of the death penalty, racial bias, the risk of executing the innocent, and the lack of legal finality for victims' families. TADP will highlight the voices of conservatives and evangelicals, murder victims' families, exonerees, corrections staff, and communities of color, to educate even more Tennesseans about why this system is broken and unsustainable. Finally, TADP will provide support to our Memphis organizer, who will educate Memphians about the connections between the death penalty and the history of racial violence, engage new allies, highlight particularly problematic capital cases from Shelby County, and replicate and grow the Faith and Justice Event.
Needs
TADP serves the entire state of Tennessee with one full-time staff and two part-time staff. We receive no funding from any state or federal government sources. Instead, TADP relies on individuals and private foundations for all of its funding. Our outreach and effectiveness could increase exponentially with an additional staff person to help with our organizing and educational efforts, particularly in East Tennessee. Every dollar invested in TADP makes a large impact on the work that we are able to accomplish. With a well-funded campaign, TADP believes that we could achieve our mission in Tennessee within the next five to ten years.
CEO Statement
Though Tennesseans have a wide variety of opinions on the death penalty both for and against, as a public policy, the death penalty system is a failure. The administration of the death penalty in Tennessee is unfair, particularly to those who are poor, is racially biased, and continues to execute those with severe mental illness and intellectual disabilities. The system costs taxpayers far more than a system which utilizes life without parole as its maximum punishment, and most disturbingly, the system is unreliable with over 165 people to date released from death rows nationwide since 1973 when evidence of their innocence emerged, including three individuals from Tennessee. TADP is committed to educating the public about this failed public policy that drains vital resources away from effective crime prevention measures, such as drug treatment, mental health care, resources for law enforcement, as well as funding to support surviving family members of murder. We can hold offenders accountable, protect our families, and prevent violent crime without the death penalty. Join us to make your voice heard.
Board Chair Statement
TADP has singular mission: to educate Tennesseans about why the death penalty is a failed policy that needs to end. In the current political climate in this state, our mission requires education of Tennessee citizens and legislators on an issue that most people wish to avoid consideration of altogether. When people are confronted with the facts and compelled to consider them, they tend to agree, regardless of their political orientation, that the death penalty should be reconsidered. However, this is not an issue that affects the day to day lives of many people, and getting their attention and compelling action is a challenge. The road is long, and we need sustained action and funding of that action even though our progress (changing hearts and minds one person at a time) is not always apparent. We have made progress. We have had some substantial monetary support from surprising sources, but we need more for the long journey. The public, the media, and legislators from both sides of the aisle are listening. People are increasingly skeptical of the state prosecutorial apparatus; through our efforts they have seen and heard from the growing number of exonerees who were wrongfully accused and convicted. People are tiring of the enormous cost of the death penalty. The tide is slowly turning. TADP's board is currently a diverse group of Tennesseans, some of whom are longtime activists on the issue, others are directly impacted by this policy, while others bring fundraising connections and skills. TADP seeks out board representation from across the state to ensure a wide range of perspectives and broadening networks.
Service Categories

Primary Category:

Public & Societal Benefit

-

Citizen Participation

Secondary Category:

Civil Rights, Social Action, Advocacy

-

Alliances & Advocacy

Tertiary Category:
-
Areas Served
TADP serves the entire state of Tennessee.