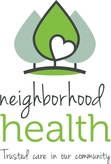 DONATE NOW
2711 Foster Ave
Nashville, TN 37210
Statements
Mission
Neighborhood Health is committed to improving the health and well-being for all in our community. We will do this by providing compassionate quality care, serving as a healthcare home and eliminating barriers to care.
Background
United Neighborhood Health Services (UNHS), doing business as "Neighborhood Health," is a private non-profit organization. The organization began in 1976 as a coalition of two volunteer medical clinics, Cayce Clinic in east Nashville and Waverly-Belmont Clinic in south Nashville. These began in 1971. Today, Neighborhood Health is a network of thirteen neighborhood clinics, two homeless clinics and two mobile medical vans serving over 30,000 patients with over 90,000 visits. 89% are low income and 58% are uninsured, with 22% having TennCare. 15% are children age 18 and younger, and 32% are women between 18 and 44 years old. 39% are African American, 23% Hispanic, 30% white and 8% other races and ethnicities. Physicians, nurse practitioners, physician assistants, dentists, licensed counselors and psychiatric nurse practitioners form the clinical teams that offer holistic care. Persons of all ages receive quality primary care. Fees are on a sliding scale based on income and family size based on the annual federal poverty guidelines (FPG). No one is denied care because they are unable to pay. Neighborhood Health emphasizes the continuity of care of each patient and comprehensive care, serving as the patient's 'medical home' where they receive a full evaluation and comprehensive and holistic services including: chronic disease care and management, pregnancy testing, family planning, immunizations, TB testing, STD testing and treatment, prenatal care, parenting education and counseling of teen parents, labs, pharmacy, violence prevention, translation service, behavioral health counseling, opioid use treatment and dental services. Our clinic locations are: Cayce Clinic, 37206, Cleveland Park Clinic, 37207, Napier Clinic, 37210, Madison Clinic, 37115, East Side Clinic, 37206, Southern Hills Clinic, 37211, Casa Clinic, 37211, and Inglewood Clinic, 37216. The Downtown Clinic, and a primary health and dental clinic located inside Nashville's Mission Clinic. New in 2017 was our embedded primary health clinic is Neighborhood at My House. This clinic serves patients with special health issues, and shares space with two like-mission agencies, Nashville Cares, and Street Works. Rural counties serves include Trousdale County, with has the Hartsville Family Clinic. Also, our Lebanon Clinic in Wilson County offers primary medical, dental, and behavioral health support. Both clinics serve patients on a countywide level.
Impact
Neighborhood Health is a leader in developing and providing health services and a 'medical home' for those who have low income, uninsured or otherwise lack access to healthcare. In 2018, Neighborhood Health served over 29,351 residents of middle Tennessee. 58% were uninsured, 81% below poverty. TOP ACCOMPLISHMENTS FROM THE PAST YEAR: 1. Neighborhood Health was re-approved by Joint Commission and re-certified for Patient Centered Medical Home Certification. We also completed our 3 year audit with HRSA as one of the 30% of health centers with no findings. 2 Neighborhood Health has expanded behavioral health services adding behavior health counselors and psychiatric nurse practitioners so that all thirteen clinics have coverage. In addition, a treatment program for those with opioid addiction has continued since 2016. Since then, over [] patients have been assisted. TOP GOALS FOR THE CURRENT YEAR 2019-2020: 1. Preterm births and other poor birth outcomes continue to grow in the low income neighborhoods of east and northeast Nashville, Neighborhood Health will expand services for pregnant women in these neighborhoods serving over 600 pregnant women. 2. Increase patient knowledge and use of Neighborhood Health at My House, through our partnership with Nashville CARES and Street Works. Our goal is to cut in half the transmission of HIV in Nashville and generally expand access to and increase utilization of PrEP medications, which are 90% + effective at preventing HIV infection. 3. Increase those served in the opioid addiction treatment program. We are now looking for ways to increase patient enrollment by additional provider licensure and training on how to treat this medical problem. 4. Neighborhood Health participates in the American Heart Association's Target BP program with the goal of enabling a great number of our patients (75%) with high blood pressure to achieve hypertension control.
Needs
Neighborhood Health's most pressing needs grow from patient care and management needs. 1. In order to improve the health of patients, particularly those with chronic conditions like diabetes and hypertension and those in need of preventive services, we need staff devoted to reaching out and providing care coordination and health education as a member of each care team. We estimate that we need of 5 new staff members at an individual cost of $60,000 and a total cost of $300,000. 2. Information technology: Expenses for electronic health records are significant. We have added exceptional IT staff. We have also added a staff member to do analytics and begun to develop a data warehouse. To complete the reporting capabilities and warehouse we estimate the need is for $50,000 for set up, software and equipment. 3. In order to better treat children with asthma, our programs need equipment that assists in the diagnosis of asthma. At $5,000 per site that sees children, we estimate the cost at about $50,000. 4. In order to better serve our prenatal patients, Neighborhood Health should be doing on-site ultrasounds. This would help in identifying high risk women earlier and preventing preterm births. The cost would be about $40,000.
CEO Statement
Princess, a patient with Neighborhood Health, says it best. "Our neighborhood clinic means that people care about us and will be there for our families when we need help." Neighborhood Health is committed to access to care for all. To accomplish this, Neighborhood Health has a sliding fee scale, and no one is denied care because of inability to pay. Neighborhood Health has a unique strategy for providing healthcare to the most vulnerable and impoverished residents of Nashville. We establish a "medical home" right in the neighborhoods of those without healthcare, and go to people in local communities with use of our two Mobile Health Clinics. Neighborhood Health aggressively looks for those in need, develops ways to reach them, and placed clinics within accessible reach. An additional effective approach we use is to co-locate clinics in with agencies that offer supporting services to low-income and vulnerable populations. In 2008, Neighborhood Health used this model to meet the healthcare needs of homeless people with a clinic in downtown and in the Rescue Mission. In 2014, Neighborhood Health opened services for immigrants and refugees in partnership with other refugee and immigrant services, and increased patient access through evening and weekend hours. Our Madison Clinic is open until 10 pm weekdays, and until 4:00 PM on Saturday. A third way Neighborhood Health expands access is to have 'same day' visits. People need care when they are sick and can't wait for an appointment. All Neighborhood Health clinics accept clients that day. A fourth way is through our central Customer Service Line. Individuals can call, receive all needed information, pre-register, and receive directions to the clinic closest to them. ESL clients are assisted with fluent speaking staff. Other languages are assisted through our use of the Language Line. Additionally, Neighborhood Health uses evidence-based approaches in care. Our quality improvement activities enable us to assure clients receive first class care. Neighborhood Health is committed to continuing to develop innovative programs that reach impoverished communities and meet their critical health needs. Each year brings new challenges, but with our dedicated providers and staff, we are able to respond to area health needs and continue to grow.
Board Chair Statement
Neighborhood Health's Board of Directors have a dual function: Secure the future of the organization, and secondly, be a voice for our low-income and underserved communities. A majority of Neighborhood Health's Board are consumers, assuring we remain sensitive to the needs of those we serve. Many of our clients live in public housing, have experienced homelessness, or faced periods of unemployment. Other members have skills and experience which assist the Board in meeting our obligations of sound financial and organizational management. Neighborhood Health's Board is confronted with a continually changing healthcare environment. This diverse and representative Board is particularly well suited to plan strategically for this changing future. We are creative and innovative in developing strategies to reach those in need of care, and improve the health of those most in need by maintaining a financially sound organization. Neighborhood Health has been extremely successful in growing to meet the needs of the community. From 2000 to 2016 Neighborhood Health grew from 9,642 patients to over 27,000. In that same time the budget grew from $3.7 million to over $15 million, and federal grants grew from $1.5 million to over $9 million. The biggest challenges Neighborhood Health face are: 1. Uninsured numbers continue to be half of those served. There are many discussions about how to solve the problem of those without health insurance. The Leadership Staff at Neighborhood Health believes that Neighborhood Health's model of direct care, with community ownership, is an important part of the solution in our current healthcare crisis. 2. The health of our community is deteriorating, with high levels of obesity and related illness. Tennessee continues to be one of the least healthy states in the United States. Opioid addiction is a horrendous problem, and there is a significant need to add services that help the low-income and uninsured. 3. Gentrification is displacing low-income families in to outlying county areas. Neighborhood Health developed in the inner-city, but economic developments within the urban core are pushing low income residents into more distant areas of the county. Neighborhood Health's clinics and programs are a major asset to Nashville, and provide added resources to the community. Currently $9 million in federal funds are being used to address into city's health needs. As a low-cost healthcare provider, Neighborhood Health assures that many who would not otherwise have care now do have access to a quality care provider. Neighborhood Health clinics also assure patients who are best served in a clinic do not burden the more expensive sources of care like emergency rooms.
Service Categories

Primary Category:

Health Care

-

Community Clinics

Secondary Category:

Mental Health & Crisis Intervention

-

Mental Health Treatment

Tertiary Category:

Human Services

-

Homeless Services/Centers
Areas Served
United Neighborhood Health Services Inc. (dba Neighborhood Health) serves the Middle Tennessee area, with clinics in Davidson County, Trousdale County and Wilson County. There is no residency requirement to receive care. The clinics in these three counties serve broader areas and care for residents in nearby counties as well. Individuals in need of care can go to any clinic.
TN - Davidson
TN - Trousdale
TN - Wilson