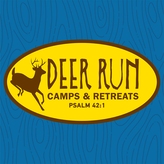 DONATE NOW
3845 Perkins Road
Thompson's Station, TN 37179
Statements
Mission
To provide excellent camps and retreats that inspire a transformational relationship with Jesus Christ and strengthen relationships with family and friends.
Background
In 1996, David and Liz Gibson purchased 79 acres of rolling Tennessee farmland now known as Deer Run Camps & Retreats. God had given them a clear vision to build a camp & retreat center for children, youth, and families. In 1998, Deer Run Retreat Center was established as a 501 (c)(3) nonprofit ministry. By 1999, trees were cleared and the initial layout for the camp was developed. Deer Run has made continuous facility and program improvements through the faithfulness of its leadership, staff, volunteers, donors, and board members. In 2001 Deer Run added a spring fed lake, four platform tents, a picnic shelter, its first low ropes course, and hosted twelve retreat groups. By 2004, the facility included a lake pavilion, sand beach, mountain-bike and hiking trails, high and low ropes courses as well as seven platform tents and several other pavilions. Each year, new groups, such as church mission teams, children's camps, youth groups, schools, universities, and community leadership groups discovered Deer Run to host their retreats. In 2006, Deer Run opened The Lodge at Deer Run, a premiere 7,000-square foot facility designed for retreats and overnight guests. This expansion provided new ministry opportunities, including marriage, family, and leadership retreats. Deer Run impacted almost 6,000 people that year, more than in the past six years combined. In 2007, Deer Run's summer camps were launched. They provided weeklong day and overnight camps for students K-12 with all camps fully-staffed and programmed. The following years, Deer Run extended the timeline for summer camps, eventually providing ten weeks of summer camp. Additionally, Deer Run initiated the Deer Run Scholarship Program to benefit at-risk children and their families. The commencement of this program is consistent with, Deer Run Founder, David Gibson's belief that children should never be turned away from camp due to a lack of financial resources. By 2011, the number of children and youth attending Deer Run Camps had grown from 48 to over 1000 campers in only a five-year period. In the next three years, the number of campers more than doubled again to well over 2,000. At the close of the 2019 summer camp season over 3100 campers had been impacted by a life-changing week of summer camp ! Additionally over 300 retreat groups from families, churches, schools and universities had been served!
Impact
In 2018, we celebrated several major accomplishments at Deer Run Camps & Retreats:1. Welcomed over 3,000 kids to summer camp.2. Completed the plans for The Refuge, a new multi-purpose building at Deer Run ( Auditorium, Meeting Space, Commercial Kitchen, Dining Room and Health Center).3. Finalized our five- year Gathering Momentum Strategic Plan for planned growth, improved programming, enhancing communications and staff development.4. Celebrated twenty years with a champion cultivation event.5. Welcomed more than 300 retreat group with 10,000 guests to Deer Run.6. Implemented Circuitree, a cloud-based, state-of-the-art camp management software.
Needs
1. The Refuge - A 20,000 sq. ft. facility inclusive of auditorium and meeting space, commercial kitchen and dining hall, and a health center 2. Camp scholarships for at risk campers and families in need. In 2018, awarded over 310 individual scholarships to 21 local ministries and 113 families.3. Three additional cabins to accommodate the growing number of overnight campers and retreat guests4. A new restroom facility near the ropes course.5. A new recreational area ( human foosball)6. Volunteers for kitchen, building and grounds maintenance, construction projects, and community events
CEO Statement
At Deer Run Camps & Retreats, we believe that the most important aspect of life is relationships. This applies in our spiritual life, family life, business life, etc. We exist to help people develop and maintain healthy relationships with Jesus Christ and each other. There is an ever-widening gap in family relationships in America today. As a result, there is a huge increase in at risk children. We are attacking this problem by providing summer camp programs that develop character, integrity, confidence and respect through well trained staff and meaningful programs that help children know that they are loved by God and created for a purpose! Additionally, we provide family events to intentionally strengthen the traditional family relationships between married couples and their children. These include 'Family Camp', 'Married Couples Weekends', 'Father/Son Weekend', and 'Mother/Daughter Weekend'. If we build our families on a solid foundation, with Jesus Christ as the cornerstone, we will experience the true love of God in our homes, communities, nation and the world. We are developing world changers!
Board Chair Statement
Board Chair Statement Deer Run Camps & Retreats has been blessed with robust growth opportunities found in our programs, facilities, staff, and volunteers. After completing a new five-year strategic plan, the Deer Run Board of Directors is committed to good stewardship through the efficient allocation of resources and contributions. This commitment is consistent with Deer Run's mission of "providing excellent camps and retreats that inspire a life-changing relationship with Jesus Christ and strengthen relationships with family and friends." As we enter 2019, Deer Run remains financially strong. Operations are self-funding which 1) ensure long-term sustainability and 2) enable contributions to fund scholarships and expand facilities and programs. The Board expresses its gratitude to the many champions whose servant attitudes empower Deer Run in achieving its vision "to reach as many people as possible for Christ." The sum of these efforts exemplifies "The Deer Run Way" which states, "Whatever you do, do it enthusiastically, as something done for the Lord and not for men, knowing that you will receive an inheritance from the Lord. You serve the Lord Christ" (Colossians 3:23-24).
Service Categories

Primary Category:

Youth Development

-

Youth Development-Religious Leadership

Secondary Category:

Religion- Related

-

Christianity

Tertiary Category:

Youth Development

-
Areas Served
While Deer Run Retreat is geographically located in Middle Tennessee we have ministered to people from all over the country, from Alaska to California and Texas to the Carolinas.