The Wonderful Life Foundation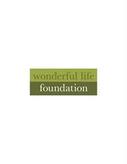 DONATE NOW
2728 Eugenia Avenue
Nashville, TN 37211
Statements
Mission
To provide relief for families experiencing job loss and other unforeseen compounding financial hardships that arise while fighting ongoing, life threatening pediatric illnesses allowing the focus to remain on hope and healing.
Background
While our son was undergoing treatment for a brain tumor we saw a great need for financial assistance in the families around us. Many of the families in the clinic were, and are, dual income households. Treatments for life threatening illnesses are often lengthy. This reality can cause financial hardships as massive amounts of unpaid leave are neccessary, and often jobs are forfeited so that the child can receive all the appropriate care they need. With changes in income as well as mounting medical bills and the high cost of prescriptions most families find themselves not only heartbroken as they watch their child suffer, but stressed as they struggle to maintain their financial footing.
Service Categories

Primary Category:

Health Care

-

Fund Raising & Fund Distribution

Secondary Category:

Diseases, Disorders & Medical Disciplines

-

Pediatrics

Tertiary Category:

Human Services

-

Emergency Assistance (Food, Clothing, Cash)
Areas Served
TN and surrounding areas.