Habitat for Humanity of Greater Nashville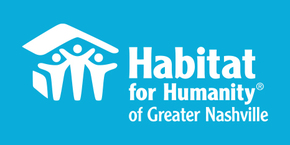 DONATE NOW
414 Harding Place Suite 100
Nashville, TN 37211
Fiscal Year
Fiscal Year Start
07/01/2022
Fiscal Year End
06/30/2023
Projected Revenue
$26,972,436.00
Projected Expenses
$25,374,097.00
Organizational Budgets and Other Documents
IRS Letter of Exemption
Detailed Financials
Revenue and Expenses
| Fiscal Year | 2022 | 2021 | 2020 |
| --- | --- | --- | --- |
| Total Revenue | $16,543,254.00 | $18,588,288.00 | $21,735,535.00 |
| Total Expenses | $12,976,618.00 | $15,910,523.00 | $18,868,845.00 |
| Revenue Less Expenses | $3,566,636.00 | $2,677,765.00 | $2,866,690.00 |
Revenue Sources
| Fiscal Year | 2022 | 2021 | 2020 |
| --- | --- | --- | --- |
| Foundation and Corporation Contributions | $0.00 | $0.00 | $2,416,779.00 |
| Government - Federal | $0.00 | $0.00 | $821,187.00 |
| Government - State | $0.00 | $0.00 | $188,928.00 |
| Government - Local | $0.00 | $0.00 | $2,019,066.00 |
| Government - Unspecified | $3,131,233.00 | $2,293,330.00 | $811,072.00 |
| Individual Contributions | $2,557,853.00 | $2,712,666.00 | $1,135,024.00 |
| Indirect Public Support | $0.00 | $0.00 | $0.00 |
| Earned Revenue | $6,985,624.00 | $9,912,823.00 | $13,255,435.00 |
| Investment Income, Net of Losses | $54,582.00 | $43,950.00 | $55,680.00 |
| Membership Dues | $0.00 | $0.00 | $0.00 |
| Special Events | $364,796.00 | $512,972.00 | $350,334.00 |
| Revenue In-Kind | $3,401,550.00 | $3,068,592.00 | $364,513.00 |
| Other | $17,616.00 | $43,955.00 | $317,517.00 |
Expense Allocation
| Fiscal Year | 2022 | 2021 | 2020 |
| --- | --- | --- | --- |
| Program Expense | $10,775,331.00 | $13,847,935.00 | $16,374,995.00 |
| Administration Expense | $780,012.00 | $786,148.00 | $751,750.00 |
| Fundraising Expense | $1,421,275.00 | $1,276,440.00 | $1,742,100.00 |
| Total Revenue/Total Expenses | 127% | 117% | 115% |
| Program Expense/Total Expenses | 83% | 87% | 87% |
| Fundraising Expense/Contributed Revenue | 11% | 8% | 9% |
Top Funding Sources
Fiscal Year
2022
2021
2020
Top Funding Source & Dollar Amount
Program Revenue
$6,985,624.00
Program Revenue
$9,912,823.00
Program Revenue
$13,255,435.00
Second Highest Funding Source & Dollar Amount
Noncash Contributions
$3,401,550.00
Noncash Contributions
$3,068,592.00
Government Grants
$3,840,253.00
Third Highest Funding Source & Dollar Amount
Government Grants
$3,131,233.00
Contributions, Gifts, and Grants
$2,712,666.00
Contributions, Gifts and Grants
$3,551,803.00
Assets and Liabilities
| Fiscal Year | 2022 | 2021 | 2020 |
| --- | --- | --- | --- |
| Total Assets | $71,491,096.00 | $64,833,269.00 | $60,843,886.00 |
| Current Assets | $49,128,376.00 | $48,941,375.00 | $45,320,524.00 |
| Long-Term Liabilities | $46,669,151.00 | $25,723,581.00 | $24,955,015.00 |
| Current Liabilities | $9,508,210.00 | $2,195,012.00 | $6,789,537.00 |
| Total Net Assets | $35,313,735.00 | $31,777,099.00 | $29,099,334.00 |
Endowment Info
Do you have an endowment?
Yes
What is the value of the endowment?
$23,275.82
What is the spending policy for your endowment?
N/A
Capital Campaign Info
Are you currently in a Capital Campaign?
No
Do you anticipate a campaign in the next 5 years?
No
Solicitation Permit Info
State Charitable Solicitations Permit
Yes
Permit Expiration Month
December
Permit Expiration Year
2023
Solicitations Permit

Form 990s
Audit Documents
Foundation Staff Comments
---
Financial figures taken from the 990. Financial audit and Form 990 prepared by Cherry Bekaert LLP. Comments provided by Hayley Sulfridge 11/10/22.