Habitat for Humanity of Greater Nashville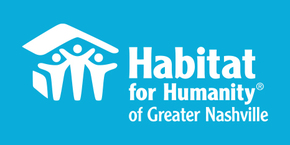 DONATE NOW
414 Harding Place Suite 100
Nashville, TN 37211
Statements
Mission
Seeking to put God's love into action, Habitat for Humanity brings people together to build homes, communities and hope.
Background
Habitat for Humanity of Greater Nashville provides the life-changing opportunity for people to purchase and own quality, affordable homes. Habitat provides homeownership opportunities for working men and women who are unable to obtain traditional mortgages in five counties: Davidson, Dickson, Wilson, Cheatham and Robertson. The success of our mission is ensured through the generous help of our caring community of donors and volunteers, who help us Build Better Lives.
Impact
Habitat for Humanity of Greater Nashville provides the life-changing opportunity for low-income families to become homeowners. Habitat homes are built primarily by volunteers and are sponsored by a diverse array of corporations, foundations, churches, civic groups, and individuals, so that more people become informed about the need for more affordable housing. Homeownership stabilizes lives and builds better communities.

Habitat has a proven model of success through its education component and community support. Habitat's mortgage delinquency rate is less than 3%.

As a consecutive 14-year recipient of the ENERGY STAR® Award for Sustained Excellence, Habitat has been nationally recognized by the Environmental Protection Agency and U.S. Department of Energy for its continued leadership in protecting the environment through energy efficient construction.

Habitat homeowner Chantelle says, "My income was too low and they (banks) weren't willing to work with me to improve my credit. I needed the help and time to take care of my debts, and I got that at Habitat."
Needs
1. Funding to support future Habitat homeowners.
2. Land donation or funding for land purchase and development.
3. Funding for the Homeowner Academy program: Each Habitat family completes a twelve-week series of classes focused on financial literacy and homeownership education.
4. Volunteers in construction, education, and retail (ReStore locations).
CEO Statement
Habitat for Humanity homeownership creates stability and strength for the lives of individuals and families who otherwise could not qualify for a traditional mortgage. Habitat homeowners pay nearly $1 million in property taxes improving community infrastructures that benefit us all. The stability and empowerment homeownership provides can improve lives for generations. Habitat's commitment to the environment is reflected in its 100% ENERGY STAR certified homes and through its retail operation, the ReStore. Habitat's homeownership model provides government, faith and corporate sponsors meaningful ways to engage in their community and be a solution in the affordable housing story. In these very real ways, Habitat of Greater Nashville is changing lives, in a forward-thinking, responsible way that looks to care for our community into the future.
Service Categories

Primary Category:

Housing, Shelter

-

Housing Development, Construction & Management

Secondary Category:
-
Tertiary Category:
-
Areas Served
Habitat for Humanity of Greater Nashville is a model for shared services for other Habitat affiliates with the addition of Dickson County in 2007, Cheatham County in 2010, Wilson County in 2012 and Robertson County in 2020. Through the cooperation of services, administrative, marketing, homeowner education and construction costs are shared and more resources available for a wider geographic area.
TN - Davidson
TN - Dickson
TN - Cheatham
TN - Wilson
TN - Robertson