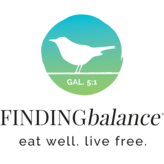 DONATE NOW
PO Box 284
Franklin, TN 37065
Statements
Mission
Our mission is to provide easily-accessible Christ-centered resources for food and body image issues.
Background
Founded in 2002 by former Sparrow Records Marketing Director, Constance Rhodes, FINDINGbalance is a Christian health and wellness organization, with a mission to help people repair their relationship with food and their bodies so they can live the abundant life they were created for. The mission is personal for Rhodes, who watched her mother battle bulimia in the early Eighties, long before eating disorders were something people talked about or understood. Rhodes developed her own eating disorder as a Freshman in Bible College in the early Nineties. Her eating issues continued for a decade before she began to find freedom through Christian counseling and participation in a general recovery group at a church in Murfreesboro, TN. Over the past twenty years, FINDINGbalance has established itself as the leading Christian resource for those seeking freedom from eating and body image issues. Through the use of multi-media and technology, their programs extend beyond borders to reach people all over the US and even Internationally.

The only Christian non-profit focused exclusively on a population that ranges from basic dieter to clinical eating disorders, FINDINGbalance is intentional about providing quality, balanced resources which are sensitive to all who struggle with food and body image concerns. Founded on Christian principles, they are dedicated to providing Clinically-respected resources to impact churches, ministries, campuses and Christian organizations whose members currently lack options for Christ-centered recovery paths.
Impact
In 2021, we:
- Onboarded and trained a new Program Director, who is now our Executive Director.
- Began to grow our team which enabled us to minister to more constituents and plan future programs and opportunities to connect.
- Partnered with Fellowship of Christian Athletes (FCA) on "Brave Body"; a webinar series for female athletes addressing body image, eating disorders, shame, and faith.
- Launched a prayer group for family and friends supporting a loved one through their fight for freedom, then began development on three additional groups to meet the desire for additional community and connection.
- Moved our online curriculum to a fee-based structure to help fund our ministry.

In 2022, we plan to:
- Offer additional groups to meet the desire for additional community and connection; another weekly prayer group for loved ones, a weekly prayer group for those struggling in their own fight for freedom, a monthly prayer group to cover the ministry, constituents, donors, and team in prayer, and a weekly women's Bible study.
- Launch a new podcast to increase the amount of people we can reach with this freedom message.
- Increase the amount of Christian professionals, clinicians, and programs specializing in eating disorder treatment, recovery, and freedom on our Christian Treatment Finder website (cedcn.org).
- Add donors to our monthly supporter family.
Needs
FINDINGbalance continued operating in a reduced-staff capacity in 2021, adding additional volunteers to help us serve our constituents with free resources while slowly increasing funding to allow for additional staff hours. We are being faithful to operate as leanly as possible while moving toward new ways to help those searching for the hope and community they need to break free from eating issues.

Our hope in 2022 is to:
- Continue offering more opportunities for community and connection to those in need.
- Launch a new podcast to share this life-changing truth about food and body image to the millions searching for hope (staff hours, equipment, production costs; estimated $4,650).
- Move some volunteer staff roles to a paid position (estimated $7,800/annually).
CEO Statement
After struggling with food and body image issues for more than 25 years, God led me to the Lasting Freedom course at FINDINGbalance where I was set free from the chains of "diet culture". With 23 years of diverse ministry and professional experience as a software analyst, marketing director, worship leader, and Christian life coach, my passion is to help others find hope in the Christ-centered truth I've found. I am honored today to carry on the mission of FINDINGbalance.

Studies have shown that eating issues can start simple and quickly escalate into something very serious. Anorexia has the highest mortality rate of any mental health disorder, and bulimia (and other eating disorders) can destroy bodies, finances, and relationships. But even if you're just always on a diet - a normal thing to do in our culture - the amount of time, energy and money required to follow programs that don't even work often leads to anxiety, depression, and being held back from the life God has called you to live. Our children are growing up less healthy than ever - mind, body, and soul - and few of us are living the life God created us for. It may not show on the outside, but it's killing us on the inside.

At FINDINGbalance, we've spent the last 20 years creating tools to end this trend. Our resources are designed to get below the surface into the heart of what really drives our issues with food. We look forward to continuing to provide resources which can encourage and strengthen individuals toward health and freedom in Christ.
Board Chair Statement
As Director of the Larry J Crabb Center for University Counseling at Colorado Christian University, I have the honor of serving college students and training the next generation of therapists. My 20 year career as a psychologist has focused around three passions: faith, eating disorders, and university mental health services. In my role as Board Chair for FINDINGbalance, I am able to blend these passions in support of this organization's mission. Serving FINDINGbalance is an honor. I enjoy getting to help educate and train Christians in working with those struggling with eating disorders, food, weight, and shape issues. I am also working to ensuring that we uphold the integrity and mission of this outstanding organization.
Service Categories

Primary Category:

Mental Health & Crisis Intervention

-

Eating Disorders & Addictions

Secondary Category:

Religion- Related

-

Christianity

Tertiary Category:
-
Areas Served
Based in Franklin, TN, our national and international efforts are accomplished through online curriculum and our extensive video-based website. Occasional conferences occur in Franklin, Tennessee.