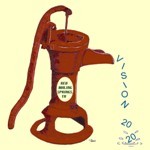 DONATE NOW
2163 Oak Grove Road
Red Boiling Springs, TN 37150
Statements
Mission
Vision 2020 Inc.,of Red Boiling Springs,TN, shall have as its purpose to stimulate interest and awareness of our history; to encourage appreciation of the attributes of our community; to promote preservation of historic resources and to create an environment that will improve the quality of life.
Background
What began, in the fall of 2008, as ten people drinking coffee, expressing their concerns for Red Boiling Springs and dreaming of what could be by the year 2020 has grown into a non-profit organization dedicated to stimulating interest in our history, encouraging appreciation for our community, preserving historic resources, and creating an environment that will improve the quality of life in our community. Vision 2020 Inc was incorporated in 2010 and received its 501c3 designation shortly thereafter. Vision 2020 is an all-volunteer organization that welcomes anyone who believes in our purpose. It is divided into project committees based on need and talent. Among our projects are the Walking Quilt Trail, an Easter Egg Hunt, a nighttime Christmas parade, a Christmas lighting contest, taking care of the Log Cabin in the city park, the Folk Medicine Festival and "The Red Pump Caf?" performance at the Armour Hotel. Our first large project was to create four large welcome signs for Red Boiling Springs. In November 2012, we completed the purchase of the old RBS Bank building. This building will be used as a heritage museum for our community. This is our largest project to date.Through the joint efforts of the City of Red Boiling Springs and Vision 2020, we were accepted into the Tennessee Downtown's program. A five-member steering committee is working with representatives from the Tennessee Department of Economic and Community Development in learning to revitalize our downtown area. We also run a gift shop/ community meeting place on Main Street. This venue is used to show case the works of local artists and craftsmen, to hold arts and crafts classes, and to be a meeting place for various groups and individuals. We supply Wi-Fi during business hours and a safe environment for children after school. The building also houses our supplies and some records.
Impact
In 2016, the restoration of the 1929 Red Boiling Springs Bank Building continued with work being done on the windows and doors. The goal for 2020 is to continue to repair/replace windows and doors to meet historic guidelines. and to replace the floor. The outside brick work has been completed and a new subfloor and supporting structure is done on the building. . We 'divided' our capital campaign into smaller chunks in an effort to get a better handle on our ultimate goal of creating a Heritage Museum for our community.

We continue to work with the Main Street four point approach and take advantage of the educational opportunities that this program offers as we work to preserve our historic downtown area. We are involved with the Upper Cumberland Tourism Association in promoting Red Boiling Springs as a tourist destination. We promote Red Boiling Springs through a variety of activities, tourism shows, speaking engagements and publications. Our Community Events: the Red Pump Cafe program (a venue for local performance arts), Night Time Christmas Parade, Easter Egg Hunt, all showed increased participation by the community. The Folk Medicine Festival is built on our history of being a mineral water resort in the early 20th century. It continues to grow in audience, artist /craftsmen and speakers participation. Our goal is to increase the number of participants and to increase the variety of artists and folk life demonstrations.


Needs
The year 2020 has impacted our ability raise funds for our programs. Most of our events have been cancelled. Our most pressing need is for volunteers. We simply need more manpower. We have people with ideas but we need 'boots on the ground'. We have a core of 20 volunteers and we need a core of 40 with a 100 more volunteers for various activities and projects. Specifically, we need a volunteer who is keenly interested in promotion and has the time to devote to using social media, the web and traditional methods to market our organization and our community as a tourism destination. Following close on that is finances. Although most of our programs and events are self supporting, the Folk Medicine Festival and the bank building/heritage museum restoration have not reached that point. We are in need of $6,000.00 above any sales that are made to run the Folk Medicine Festival well. We need $150,000 to restore the bank building to workable condition before we can begin on the museum aspect. Our first step in this project was to raise funds for the exterior brick work and roof. That is now complete. The next step is to restore the windows and doors to historic parameters and we will need to raise $22,000 to cover expenses there.
CEO Statement
Our vision to encourage appreciation for our community is a primary reason why I am involved with Vision 2020. My mother was raised on a farm just outside of Red Boiling Springs. My husband and I returned to that same farm sixteen years ago. I have known this little town my whole life. I have known the generations of men and women who strove to make our community a good place to live. We don't want to lose that connection. We are a small organization within this small town that depends heavily on the generosity of those who value our community and our history. Vision 2020 is a true volunteer organization. We have no paid employees but our members give tirelessly of their time and finances to improve the quality of life in our area. Red Boiling Springs is rich in history. At one time, she was the 'Gatlinburg' of the mineral spas in middle Tennessee. Thousands of people descended upon a quiet little town of 500 people every summer from the late 1800s through the Great Depression. The town had 9 hotels that served three meals a day and at least 15 boarding houses to accommodate those who came for their health and the mineral waters. Amusements abounded, from bowling alleys, a shooting gallery, boating on "the Lake" to the music of the Big Band era. Fires and floods have been the enemy of our our town's physical resources. In 1969 our town was nearly wiped off the face of the planet by a major flood. The water destroyed many of our historic buildings. Again in 2010, we suffered heavy loses. Today there are three hotels and two other buildings in the downtown commercial district that hail from those golden days. Vision 2020 members have taken on the task of preserving our historic resources and the knowledge of our forebears. This seems almost overwhelming at times. Being in a rural, economically depressed region most of our projects take a lot longer to complete than those in the metro areas of our state. But our hearts and willingness make things possible. ~Rita Watson, Executive Director
Board Chair Statement
Vision 2020 Inc is a local community organization whose membership is well represented in local citizens which have a vested interest in the prosperity of Red Boiling Springs. The organization provides an opportunity for the citizens to communicate about issues that directly effect their quality of life. We believe that we must invest in our community before we can request donations from others. For that reason, we host many local fundraisers to support the events and projects of Vision 2020 Inc.We carry out our mission by honoring our past while looking to our future. For example, The Folk Medicine Festival (held 1st Saturday in June) passes on knowledge, skills, and traditions that ensure the survival of folk activities, from: old-time medicine and natural healing arts to arts and crafts that demonstrate the traditional, handmade way of not only creating art but useful household items. In addition, Vision 2020 Inc purchased a historic property in the downtown area and is currently restoring it to create The Red Boiling Springs Heritage Museum. To date, the exterior brick has been completely re- mortared and a historically correct new roof has been installed. This project alone has generated a $68,000 invest for the downtown historic district. The Folk Medicine Festival and The Red Boiling Springs Heritage Museum are based upon the community roots and/or origin?yet create a brighter future by inviting guest to love our community as much as we do and sparking community and economic development. Like many rural, non-profit community based organizations fundraising and engaging the community's young talent is a challenge. Our goal for the coming year is to begin to seek out additional sources of funding. We run a community gift shop (Step Back in Time) that is not your run of the mill operation?there are no employees and the shop offers unique one of a kind items made by local craftsmen, artisans, and crafters. It also offers art classes. All proceeds from the Step Back in Time Shop benefit the Red Boiling Springs Heritage Museum. In addition, the shop acts as a gathering spot for the community. Engaging the young talent in the community has been tricky; however, we are always on the search for new ideas to change this scenario. We participate in various conferences, seminars to improve our understanding. Vision 2020 Inc has identified a generational communication gap and obtained many new ideas to give young talent ownership of the community. We are currently working on a strategic plan to include the media outlets that are preferred by the young talent and partnering with the school board to brain storm future plans. Vision 2020 Inc is an non-profit organization, with members from diverse backgrounds, and a true love for the community. Servant leadership is an excellent definition of our members?everyone is a volunteer sharing his/her passion to increase awareness of our history, preserve the historic resources, or enhance the quality of life for all citizens in our community. Someone once said, "Ah?it's just another dot on the map!'" But it is our dot on the map and we are working diligently to enhance her. We ask that you be a part of the journey and help us, help ourselves. Crystal Justice, Chair
Service Categories

Primary Category:

Community Improvement, Capacity Building

-

Community & Neighborhood Development

Secondary Category:

Arts, Culture & Humanities

-

Folk Arts

Tertiary Category:

Public & Societal Benefit

-

Citizen Participation
Areas Served
Vision 2020 serves Red Boiling Springs, TN 37150 (Macon County) and the surrounding community, which takes in part of Clay County, TN and even the border of Monroe County, KY. Red Boiling Springs is in a rural setting with a population of just over 1,000. We are part of the Upper Cumberland region. The Salt Lick Creek flows through the length of the town. Red Boiling Springs has been known for its mineral waters for over 100 years and was once a booming mineral water resort.